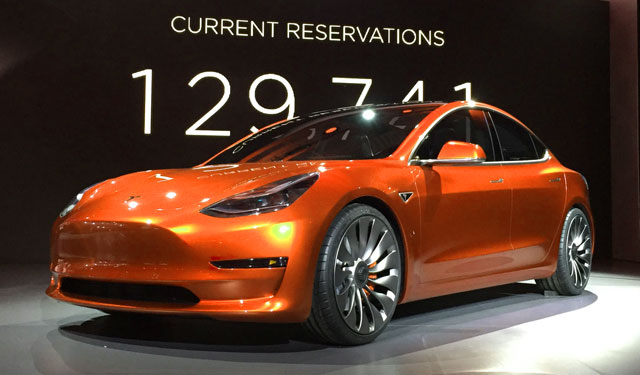 You have to know something special is on the horizon when you see that this impressive car already got 250.000 preorders, while every single potential buyer paid 1000 USD or 1000 EUR upfront. Pretty much this is the conclusion that we made after the official presentation of the project.
Well known engineer, businessman, innovator and CEO of Tesla, Elon Musk presented the car in Los Angeles and even though it looked like a finished project, we'll see at least one more year of development before it hits serial production. Musk also claims we'll get revolutionary electric car which will be available in most countries around the world for a price of 35.000 USD.
In reality we are talking about 5 doors 5 seater sedan which positions itself in mid class with cars like Mercedes C class,Jaguar XE and BMW 3. At Tesla they felt the need to fill the gap between the luxurious Model S and a crossover X series. And indeed this concept reminds us of smaller version of model X.
Design
Similarities can be seen in front bumper air intake as it is positioned a lot lower than in Model S.
Side view also indicates resemblance but only at the first glance, as we mentioned it is quite clear that new Tesla Model 3 is a lot smaller than the crossover.
But because of its height the rear end looks more elegant and compact. Also at the back LED lights are following the standards set by previous Tesla models but a bit modernized and reshaped.
Interior
Even though from the outside new Tesla Model 3 looks very elegant, inside you'll get a Spartan vibe. Interior is dominated by recognizable steering wheel alongside a big 15 inch touchscreen which is by the way the biggest in any of Tesla cars. Dashboards of S and X models are not going to featured again, since it's a first phase of development we can expect a completely new one for Model 3.
All of the systems are controlled from horizontally placed central panel.The company stated that comfort for all 5 passengers will be at the highest level. Also it is very nice to have two trunks both at the front and back.
Engine
Many technical details are still unknown but Elon Musk gave us couple of them to think about as we wait. The range should be somewhere around 350 km (215 mph) which will satisfy the need of many customers. He also indicated that in 2017 the batteries will recharge way faster as for only 30 minutes you can get 80% charge.
In base model 0 to 100 km/h is reached in 6 seconds or so, but there will be plenty of faster options because they don't produce slow cars at Tesla. Primarily, power will go to the rear wheels but four-wheel-drive will be optional. Interestingly you may also get the autopilot option.
First phase for new Tesla Model 3 is finished with Los Angeles Show in March, second should be the beginning of serial production supposedly in 2017. Will they achieve the goal of producing 500.000 electric cars annually? We don't know the answer to that question but we can clearly see that ambition at the company is certainly not lacking, as well as the interest in their product.