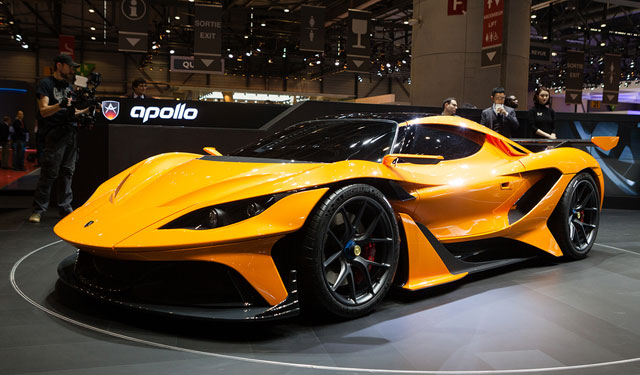 German supercar company Gumpert wasn't around for few years, so they took the time to rebrand as Apollo Automobil and finally we got the chance to see new Apollo Arrow at Geneva Motor Show.
Fresh start is what company needed, and we are expecting to see new style and identity alongside new ideas of course. And indeed compared to a previous model, they made improvements technically but also in terms of design and aerodynamics.
Design
Compared to other supercars on the market, we have to admit that this car really stands out. It brought us level of design that usually doesn't come from Germany. In the past Gumpert cars were a bit too much futuristic and overdesigned so the sales never really took off, but it seems that this time they toned it down a bit while still maintaining that supercar look.
New Apollo Arrow is very angular, very sharp looking. The design is very fluid so the car looks like it's moving even when standing still. 20 Inch front and 21 inch rear alloy wheels look very nice. Gullwing doors are featured again as all fans of Gumpert expected.
Engine
Two turbochargers on 4.0L Audi V8 is producing astonishing 986HP and 737 lb ft. Are we talking about supercar or what?
Engineers are confident that 0 to 62 mph is going to be achieved in just 2.9 seconds while in 8.8 it will be able to reach 124 mph.
The maximum speed will be 224 mph; fuel consumption is still a secret, but it won't be economic, that's for sure. We are going to see rear wheel drive only and gearbox is supposedly 7 speed sequential.
Almost entire body will be built using carbon fiber and aluminum so the weight will be around 1.3 tons or even less. Also the stability will be improved thanks to lightning fast dampers which are used in racing cars.
Another improvement coming from racing is going to be high performance braking system with ABS/ESP from Bosch. Also the Launch Control has been slightly tweaked so we will see more dynamic performance in certain situations.
Unique look is very important to many customers so company has promised to release 100 different editions. Every single one of them is going to be specially made so individualization is basically limitless.
Future looks bright for new Apollo Arrow, 1000 HP is a dream of every driver but since this is only a prototype we will have to wait some time. More information is going to revealed in future shows, hopefully we will get sneak peak of interior.