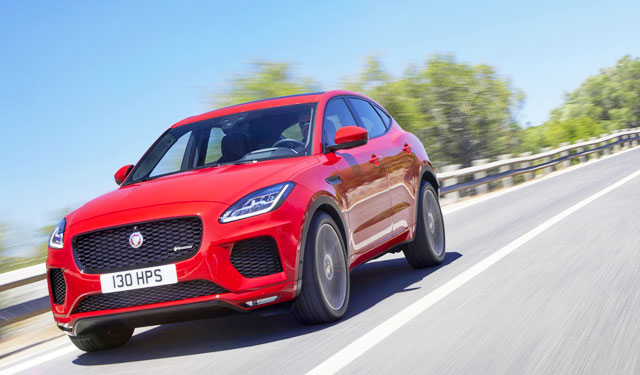 Believe it or not, the biggest growing segment in the car industry at the moment is compact SUV. While the market is dominated by Germans like BMW X1 and Audi Q3, Jaguar decided to give it a shot as well. In this 2018 Jaguar E Pace review, we're going to check out pros and cons of the newest addition to Jaguar family.
Design
E Pace is 14.4 feet long which pretty much means that it shares the dimensions with its competitors, but Jaguar does bring something else to the game, and that's elegance. As you can see, it shares some design elements with other models like F Type and F Pace, however, that doesn't mean that it doesn't have its own character.
Front carries that unmistakable Jaguar grill we can see on their other models, but design overall is much mellower. Its design lines tell us instantly that it is, in fact, baby Jaguar built for the city traffic. While it is pretty small in dimension, it still offers enough space on the inside, even for taller passengers.
Interior also has that same stamp, however, all elements are well positioned and there is no real clutter. The design is an advantage in this car primarily because exterior and interior are extremely well connected.
Performance
In our 2018 Jaguar E Pace review, we used 180HP diesel version, which is a decent engine. You can feel the torque behind it and it pushes this car to 62 mph in less than 10 seconds. The engine is connected to their newly-developed ZF automatic transmission which does help the overall performance picture.
All available engines in E Pace are going to be in four-cylinder configuration. There are three versions of diesel engines which develop 150, 180 and 240 HP, and two gasoline versions developing 250 and 300HP.
Pros
Exceptional design, good engines
Cons
Main con to this car is the stiff suspension, which might have been even worse due to the fact that our test vehicle has been equipped with 20-inch wheels.
Conclusion
We're going to end our 2018 Jaguar E Pace review with a price which starts at only $41000 in Germany. Due to the fact that it is well-priced, well-designed with a decent palette of engines, we're going to conclude that Jaguar might just have another success story on their hands.