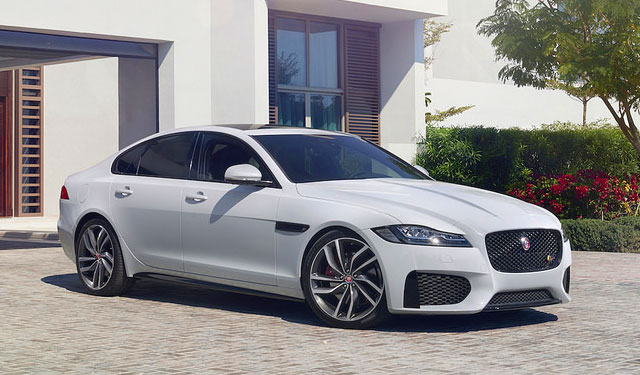 Jaguar established its reputation awhile back, however, somehow they lost some of their magic through the years. Thankfully bad years for Jaguar are over and they are coming back to hunt their German competitors with cars that look stunning, and which can compete with them when it comes to engineering and technological aspect.
Their F Type is really something special and it brought back all the qualities which made this company famous. Now it's time for the XF which uses the similar design as the XE, but on somewhat on the bigger scale. Before the car came out the used clever advertising to gain the massive attention and they managed to accomplish that. When it was presented in New York on April 3rd, everyone was amazed by its beauty and clever engineering solutions.
The new XF is significantly lighter than its predecessor. With its characteristic design lines, huge air intakes and double exhaust, this car gives all around impression of sportiness.
Even the drag is reduced and it wouldn't be wrong to say that this car doesn't have a German competitor which could fully match it.
Just as the smaller XE, this car also comes with two 2 liter diesel engines which develop 160 HP or 180HP depending on the setup.
Good news for people that prefer manuals is that both will come with manual transmissions, but automatic will be offered also. Less powerful diesel engine got some serious attention since it gets astonishing 58 mpg. Because this is factory info it is still not clear if these numbers are accurate.
Most powerful diesel they'll offer will be 3 liter twin turbo engine which develops 300 HP. When it comes to gasoline engines, least powerful one is 2 liter one which develops 240HP, followed by 3 liter V6 which develops 380HP. Supercharged 5 liter engine should be available some time later.
This car also has impressive suspension and 50:50 weight distribution which guarantee it sporty characteristics. Rear wheel drive is in charge of fun, while the most powerful gasoline version will be paired with four wheel drive.
Interior is also bigger and it offers more space for the passengers in the back, while materials like aluminium, wood and leather give it that dose of luxury. As some of the newest cars, this car will be equipped with touch screen display and top of the line multimedia capabilities. When it's all said and done, this car really is impressive and it will definitely make life harder for Germans, but will it get massive approval, only time will tell.