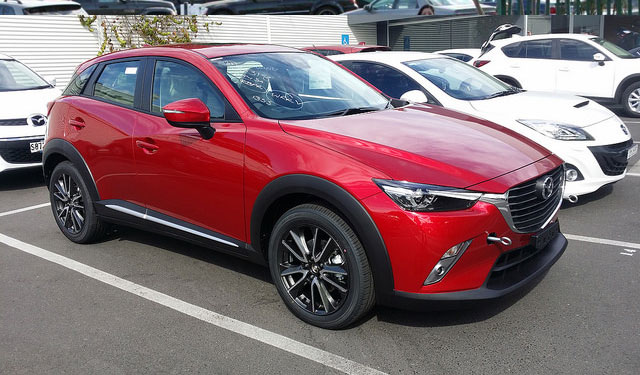 Mazda really sowed the world what kind of crossover they can build. CX-3 might seem small but it is actually spacious with implemented sport elements which don't really make it any less practical. It possesses that modern feel but it is still unique and most importantly it posses the character lot of other cars lack.
Even though some might argue that this is a perfect car for females, most of the men wouldn't mind driving it. This car is actually a really smart move by Mazda, since it is aiming at the market which is expanding by day. This car might not look impressive on the photos, but in real life you can feel the magic it projects. It is a perfect little SUV which is practical, economical, stylish and affordable. It is basically the perfect little package for people who know what they want.
This unique car will grow on you even though it might be positioned in segment which doesn't appeal to you. Mazda basically used the components from different models to create this little masterpiece.
It uses the platform from Mazda 2, lot of powertrain components come from Mazda 3, while design wise, it obviously reminds the most of CX-5.
Judging by this, there wasn't really much work involved, as much as it would be if they build it from scratch.
Even though it is an affordable vehicle it still has stunning design which looks better than some much more expensive vehicles. Aggressive grill is something that will win over anybody, while the modern headlights fulfill the overall package. Design is really on the top level, and to give it some extra flavor they equipped it with 18 inch wheels to give it better stance and improve the overall impression even more.
When it comes to engines, there are two gasoline 2 liter engines which generate 120 or 150 HP, and there is one 1.5 liter diesel engine which produces 105HP. Overall, this is one of the most impressive cars in this segment, mainly because you can see that its creators paid attention to every aspect of it. Sometimes it was enough to attract the buyers with good looking car, but those time have passed and now you must have complete package which is well designed and built, practical, and also fun. That's exactly what Mazda CX-3 is.