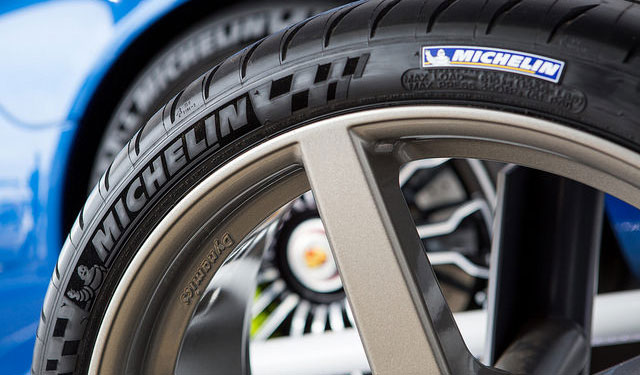 Believe it or not, lot of people use one type of tire regardless of the season, and this usually results in loss of traction that could lead to crash. Some people can't really change tires according to seasons because of their budget while others simply don't want to. Whatever the case is, summer tires lose much of their performance in cold weather, while winter tires lose traction on hot road.
Michelin has presented their new summer tire called cross climate which is certified for use in winter. This tire basically adapts to different weather as well as temperatures and that results in decent performance in all conditions.
Michelin used all their latest technological achievements to develop this tire. For example they used their newest compound which is very flexible and capable of sticking to uneven surfaces. Also the under layer they used is very energy efficient and it doesn't produce a lot of heat.
This new tire is also characterized by the use of the V pattern as well as 3D blocks which fit inside each other. This kind of tire pattern which is spreading outward is optimal for traction on the snow.
Specific combination of blocks combined with their newest rubber compound ensures the optimal traction on the dry road also.
When it comes out in May, it is going to be available in 15 different sizes, for wheels up to 17 inch in diameter. This will be enough to cover 70 percent of European market.
They also planned more sizes for 2016. Even though this might sound as a perfect solution to some, it's really not. Michelin did manage to create a tire which does perform well in summer and winter, but it still can't replace any of these tires when it comes to performance.
We all want to keep our families safe on the road and the best way to do this is to have two sets of tires. Ones that will give you top level performance in the summer, and their equivalent for the winter. This might seem like unnecessary expense to some, but good tires could keep you from crashing.
On the other side, you have two sets of tires which will last you double the time. So it is not really an additional expense. Only thing you'll have to do is rotate the sets at the right time, which isn't really much of an effort when you consider the benefits.