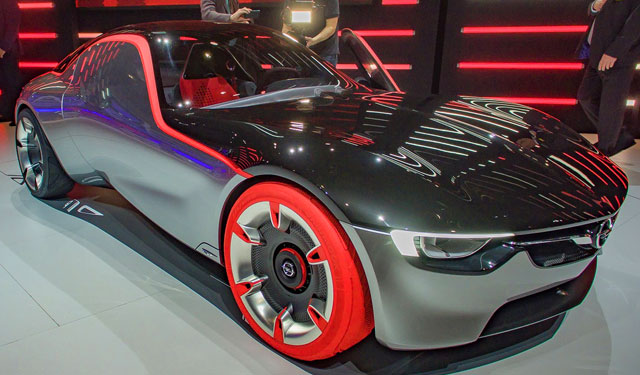 This month in Geneva, Opel presented an amazing GT concept to the audience all around the globe. Small coupe was a mystery ever since a German company announced a comeback of the legend of 20th century. We finally got the opportunity to see it in Geneva, and it is fair thing to say that this futuristic car was a star of show.
It all started in 1968
First concept for GT was released back in1965. Three years after, a factory in Bochum started producing first series. Model borrowed most of the components from Kadett B. Base car was working on 1.1l OHV straight-4 engine, which gave you 67 HP on 6000 rpm, but people mostly went with a more powerful 1.9l 103 HP optional version. GT went on sale in 2007 as well, but it was less popular compared to the original which sold 105k units in first five years on the market.
Design
We have to say that the car is looking really stunning, with no door handles, no mirrors and it doesn't even have windshield wipers.
It has a very cool design with long hood, glass roof, different colored wheels, IntelliLux LED mini headlights, etc., which make this car look futuristic.
At the back there is double exhaust system with GT logo in between, which symbolizes another throwback concept from Opel: Experimental GT.
We are confident, ambitious, innovative and want to draw more buyers with every new car that we produce, says Karl-Thomas Neumann, the executive vice president of the company. We agree that Opel GT Concept is ambitious, but some of the features like doors with no handles are going to be expensive and difficult thing to achieve in serial production.
German company patented a system where opening doors moves almost entire side of bodywork, they say it is a good move because the doors can be open even in tight parking spaces.Mirrors are replaced with two cameras located just above the front wheels.
Engine
Engineers went with 1-liter 3-cylinder engine which gives 145 HP and it will help GT to reach maximum speed of 133 mp/h. 0 to 100 is achieved in just under eight seconds. It weights 2200 lbs, and its length is around 13 ft. The question is, what are they going to do with the platform, because they are currently not developing any for rear wheel drive.
Perhaps the new Opel GT Concept will be co-developed with some other brands or new investments will have to come.Now we can only wait for the serial production, and some of the rumors are that it will start in 2019. German press speculates that the pricing is going to be around 25k Euros, so if you want this toy start saving up.