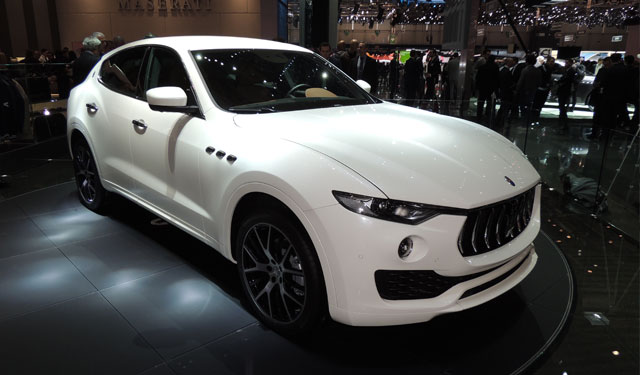 Virtually everybody is making SUVs today, so why wouldn't this Italian company get in to mix. Porsche, Bentley and Jaguar are some of the brands that usually made luxurious and sports cars, but recently they expanded their catalog with SUV models. We have to admit that it took a lot of time to get them going, but finally we have the results at our sights: the new Maserati Levante.

A bit of history
Company was founded in December of 1914 by Maserati brothers, Alfieri, Ettore, Ernesto, Bindo and Carlo. By making sports cars, they reached their pinnacle in 1960s and 1970s. One of the first models which was widely successful was Ghibli which debuted in 1966. Then, couple of years later company was sold to Citroen.
That partnership lasted to until 1993 when another Italian company, Fiat purchased the rights to the Maserati brand. They flirted with Ferrari in the meantime but officially they are part of Fiat group today. This march, on Geneva Motor Show we got the opportunity to see the new Maserati Levante up close and personal. This SUV is going with identical platform as seen in Quattroporte and Ghibli, if is not broke why fix it.
Engine
The 4WD will have the new generation 8 speed ZF automatic gearbox. Engines are 3-liter V6, and will have 3 variations, starting from 350 up to 430 HP.
This twin turbo beast is made by Ferrari, but it's exclusively used only for Maserati models. Cheaper option will come in shape of V6 diesel 275HP, which goes from 0 to 100 in 6.9 seconds and reaches maximum of 230 km/h.
Fuel consumption for two more powerful versions is 10.7 and 10.9 liters per 100 km, while diesel engine is burning only 7.2 per 100 km/h.
Design
You can't really go wrong when you have Quattroporte and Ghibli as part of your history. A signature Trident logo placed on very a professionally looking grille, three air vents on the side and very sharp angle on back windshield are signature features that are inspired by previously mentioned classics. Italians have set the price of new Maserati Levante between 73k and 82k, so we can expect luxury and comfort when it comes to interior.
Also pricing the car like this means that they see Porsche Cayenne as main rival on the market. Maserati did what really should have done years ago. Customers are just crazy for SUVs these days, and it is about time that Italians put one on the market.
Porsche made a miracle with Cayenne, Bentley is aiming to do similar thing with new Bentayga, as is Jaguar with their F-Pace, so it's only natural to see that Maserati has set Levante for serial production. The car has character, charisma and recognizable brand which should be more than enough for success.