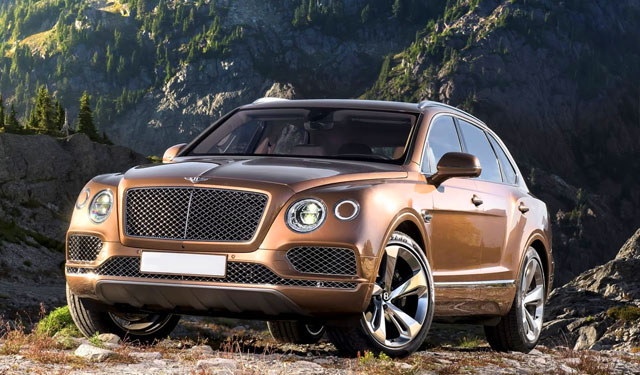 Here we have the most luxurious, the fastest, the most powerful and first SUV from Bentley. If you know anything about some of the most exclusive SUVs like Mercedes GSL, Audi Q7, BMW X5, Range Rover, Lexus RX, Cadillac Escalade and Lincoln Navigator then you probably know what Premium stands for.
Basically it is best of the best when it comes to 4WD. People who buy these cars don't ask for the price and the people who make them have only one goal, to give their customers the most power and luxury that money can buy.
Engineers and designers of British Bentley have set themselves the same challenge but they also wanted to make the new Bentayga the fastest SUV on the road. Ever since it is founded, back in 1919, Bentley has never made a SUV. Because of this they had to start from scratch.
New Bentley Bentayga is going with Volkswagen MLB-2 platform given its success with models like Audi Q7, A4 and even Porche Macan.
Back in 2012 in Geneva, Bentley has intrigued the world with EXP 9 F concept.
Since everybody was blown away with the concept of super-luxurious hand-made SUV, they've decided give people what they want. Three years later in Frankfurt they presented this stunning SUV.
Design
They went with the classic design, similar to Continental GT or Flying Spur. Simple and elegant, chrome everywhere, classic Bentley grill, side vents alongside with top paint job are just some of the things that stand out when you look at the new Bentayga. The image is complete with 21 inch aluminum rims, but also there is 22 inch option if you have some extra cash.
Interior
The biggest difference compared to EXP 9 F concept is interior. Perhaps it lacks a bit of originality, we could say that it is modern version of Continental GT. New steering wheel has Bentley written all over it and it is awesome.
Panel is combination of analog and digital, the most expensive leather and finest wood are some of the details that give this car recognizable style. Diamond Breitling Tourbillon clock is an option but only for those who are willing to pay extra. Everything is controlled by 8 inch display, whose only flaw is font selection.
12 Cylinder symphony
New Bentley Bentayga will get the biggest and the strongest engine that Bentley has to offer. We are talking about 6 liter twin-turbo W12 engine that produces around 600 HP and 660 lb-ft of torque. Power is transferred by 8 speed automatic transmission, but you can manually change gears as well.
It weights 5340 lb, and despite that it reaches 0 to 100 km/h (0 to 62 mp/h) in 4.1 seconds with maximum speed of 197 mp/h. This means that it is officially the fastest SUV on the planet. Bentley will also put 4.0 TDI V8 version on the market, although specs for this engine are still unknown.