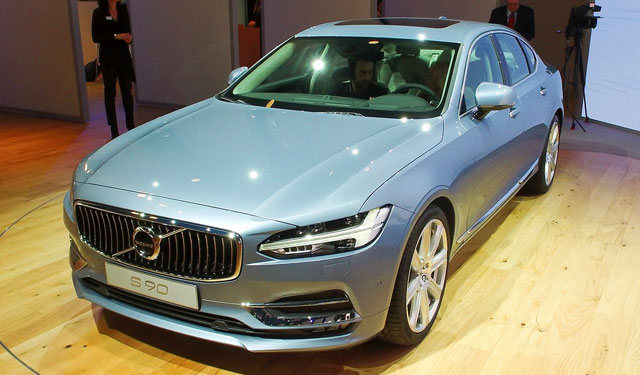 After luxurious SUV model, Volvo presented first modern sedan under new Chinese owner. The goal is to return the Swedish giant where it belongs – among the best. Since 2010, 11 billion U.S. dollars have been invested in new technology. Predecessor of their most popular model was on the market for 10 years and it was one of the safest cars around.
In 2016 two new sedans are going on the market, new Volvo S90 and Mercedes E class. Internet promotion of S90 has drawn attention in world of cars. It was clearly influenced by SUV XC90, first car since Chinese Geely purchased the company in 2010. Base for successor of S80 is a new Volvo SPA (Scalable Product Architecture) modular platform. It means that car is composed out of 8 flexible and 1 fixed zone, and Volvo is planning to make SPA a base for all middle to high class models.
Grill is made out of 23 chromed bars with massive stylized logo in the middle. Rear looks unique thanks to unusual lights, however public opinion is split on this one. Volvo is going with classic, elegant, luxurious but cold look. Thomas Ingenlath, senior vice president of design said that with S90 they want to achieve balance between luxury, comfort and control. They say it represents the "Scandinavian design".
Interior is very simple but modern just like its predecessor's. All commands are set on 12.3 inch Sensus Connect display which eliminates need for classic buttons seen in two previous generations of S80.
Dashboard is digital, looks very nice and it really should become the standard for all middle class cars. It's very eye pleasing and you can customize color schemes. Bowers & Wilkins audio system is going to give you 1400 W, in combination with 19 speakers.
Safety
Volvo has an ambitious plan to reduce number of accidents to zero by the year of 2020, so we should expect a step forward when it comes to safety. Semi-automatic pilot assist system which slightly corrects steering to keep you in the lane has been improved. Pedestrians can feel safer as well, because new Volvo S90 is also equipped with an improved city safety system which will brake automatically if impact is inevitable.
Power
In Europe people will enjoy in D4, D5, T6 and T8, while in U.S. T5, T6 and T8 are going to be available. All of them are working on 2-liter 4-cylinder units. D4 is the only one with 6 speed manual transmission, while the rest use automatic 8 speed transmission. HP ranges from 190 on D4 up to 320 on T6, and T8 hybrid will have 407 HP which will be the most powerful.
All of the models will have new Power Pulse Technology. It is new way of supplying engine with fresh air when more acceleration is needed. Electric compressor will store air in steel bottle, so when quickly accelerating air is released and engine gets more power.