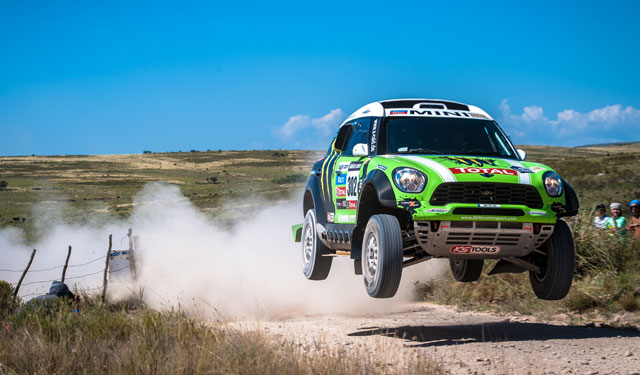 Lot of men secretly dream about this event and the adventure it brings. Harsh surrounding drains everything out of drivers but still, it is a true dream of many of us. Just you and your car setting off to the unknown is a special feeling no doubt about it.
Dakar Rally is a special event for any true petrolhead and even though its roots are in Africa, it found its home in South America. This year's 37th most demanding event in motor sports has been 9000 kilometers long, from Bueno Aires in Argentina, over the Chile and Bolivia. Even though some of the hard core drivers might consider it short, this has been the hardest Dakar for many of them.
Just like in previous years favorites justified the expectations, but there was only one spot on the podium. When it comes to motorcycles, Honda decided to do everything they can just to beat the KTM, and it seemed that they actually might succeed.
However, the hardest part of the route brought some trouble for Honda driver which had to replace the whole engine. This meant that he was going to get penalized, and KTM still managed to finish first. It wasn't the whole loss, Japanese managed to finish second.
There was some heavy competition when it comes to cars. Mini was expected to win with Nani Roma behind the wheel, but his chances vanished after just few kilometers, where he waited 4 hours beside his car. Nasser Al Attiyah didn't have those problems and he managed to win stage after stage securing his first place. Giniel De Villiers managed to finish second in his Toyota, while Krzystzof Holowczyc finished third, also in Mini.
When it comes to trucks, there wasn't much competition at all. Even though Iveco took the first stage, Kamaz came back in second leaving everyone in dust and securing Russians first three places. All in all, this year's Dakar met everyone's expectations, it was exciting and even though favorites took the first places, it was still full of uncertainty and chaos.
Sadly not even 2015 Dakar finished without deaths, Polish Motorcyclist Mihael Hernih died in the third stage from dehydration and hypothermia. This goes to show us that even though we have an access to all latest technology like modern GPS's, top level emergency teams, helicopters and so on, nothing guarantees us complete safety.