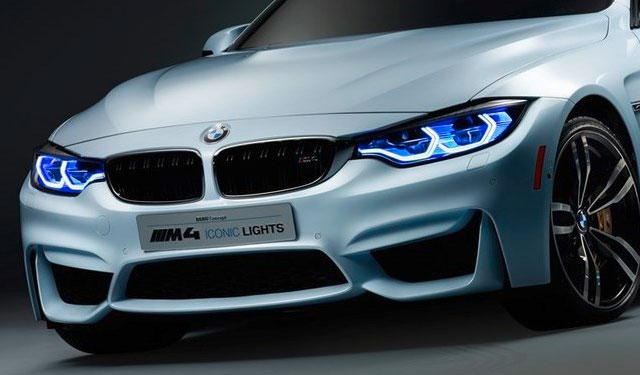 We talked about laser headlights development and their implementation on BMW i8, now they are ready for BMW production models which are much more affordable than the i8. This Bavarian company decided to present their latest commercial version of the laser lights on CES in Las Vegas, and the model they used for their presentation is the new M4.
This means that their new accomplishment in technology is going to be available on all BMW cars like series 3. The most impressive aspect of these lights is that their beam can reach 600 meters ahead. They are also paired with Selective Beam function which automatically adjusts the length of the beam and its strength in situation when another car is coming from opposite direction.
According to BMW, this new setup will improve driver's comfort, as well as safety. Laser headlight can also work in coordination with GPS, which enables them to light up even the trickiest corners better. Paired with Light Spot system, these advanced headlights detect animals and people close to the road up to 100 meters ahead.
Just to remind you laser light can create light beam which is 1000 times stronger than conventional LED beam. One more benefit is that they need 50% less energy to operate which ultimately results in lower fuel consumption.
This kind of light doesn't present any danger to animals or humans because it is not direct but rather transformed into the light which can be used in traffic. LED headlights give you 100 lumens per watt, while laser ones give you up to 170 raising the efficiency to the whole new level.
They are also much smaller, giving the car manufacturers more freedom when it comes to design. New headlights are characterized by the blue stripes and they don't look anything like recognizable BMW headlights. They also used something new for the taillights, the OLED technology. It reminds of snakeskin and they are interesting due to the fact that they project the light onto tridimensional component.
Compared to the standard light bulbs, they take much less space which enables designers to create taillights we haven't seen before. When it is all said and done, besides improved safety, these new technologies will also give us more appealing headlights and taillights, and BMW got the head start.