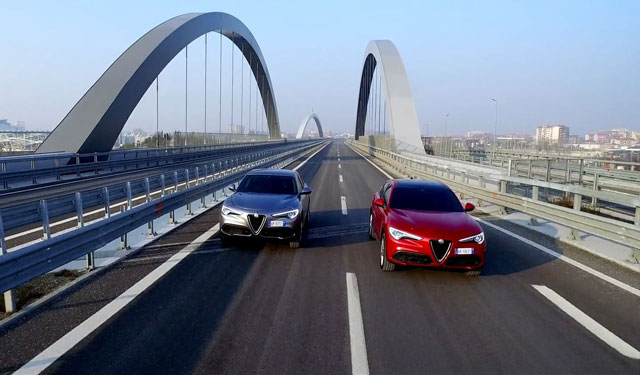 After the incredible Giulia we finally got our hands on new Alfa Romeo Stelvio, and all we have to say is wow. No we are not exaggerating, it is simply that good, and for the price of just over $55 000, we can say that it is pretty good deal. Even though it is considered an SUV, it is foremost Alfa Romeo, which means that it has that x factor none can explain, nor purposely create.
It is just a bit longer than a Giulia with a much more clearance and it is going for BMW X3. Judging by this version, it can definitely do that. With its driving dynamics, aggressiveness, style, it is bound to leave its German competition in the dust.
We were lucky to test it in southern Italy in a beautiful coastal town and Alfa Romeo Stelvio 2.0 Turbo is definitely the car that fits its surroundings. In the beautiful gray color and 20 inch wheels, it managed to get quite a few thumbs up from passing pedestrians as well as drivers.
It is a car that got us excited as well. The biggest focus of this Alfa Romeo Stelvio 2.0 Review is 280 HP engine, which will get your heart pumping even though it's pushing 3400 pounds. We couldn't help ourselves but to step on that gas pedal just to hear the amazing sound coming from dual exhaust.
Acceleration is impressive as well; engine is engineered so well that the power is available at all times. It will push this car to 62mph in 5.7 seconds which is not bad at all. As Italians know best, they have some bad roads, but Stelvio managed to soak them up well, proving its comfort even though it is on 20 inch rims.
But just like any car out there it has its flaws. We managed to dig up a few details that are not really done on the level they should be, but since this is not the serial version of the car, we'll wait to see if they get fixed. As we might have mentioned earlier there is a huge problem in automotive world and that is design recycling.
It is most obvious in BMW, most of their models pretty much follow the same design lines, and since Giulia and Stelvio share the same design as well, we just feel disappointed that they didn't take a bit bolder step. We've spend 2 days with this amazing car and we have nothing bad to say about it. On the contrary, Alfa created the car which will set the bar even higher for its competitors.
It is designed well, it has impressive engine and it is comfortable. In other words it is perfect in its own slightly flawed way, but that is what makes it special. It is a true Alfa and it is worthy of its name. To conclude our Alfa Romeo Stelvio 2.0 Turbo review, we'll just say that this car made our weekend. It was fun to drive, dynamic, and beautiful, a true Alfa.