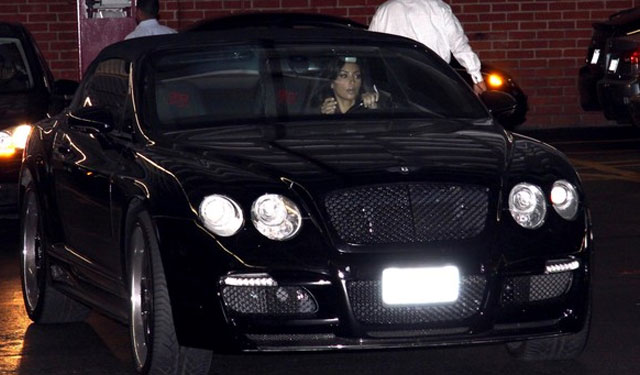 Kim is definitely the most popular woman in the world, and whether you love her or not, she has taste and she knows how to make money, that also reflects on her cars. Here are Kim's incredible 11 cars which express her personality.
1. Bentley Continental GTC
This is one of the cars which that's widely popular among people who can actually afford one.
As we all know not everybody can drive a Bentley, these luxurious car are intended for people with deeper pockets who can pay for all those extravagant options, maintain it, and ultimately feed that 6 liter humongous W12 engine with gasoline.
Kim's Bentley Continental GTC offers all that luxury, style and performance in the convertible version. We all know that she likes to stand out and she also likes her cars to be one of the kind.
She equipped her Bentley with some mean wheels which made this good looking car even better. Even though it expresses Kim, many of the guys wouldn't mind getting behind the wheel of this car.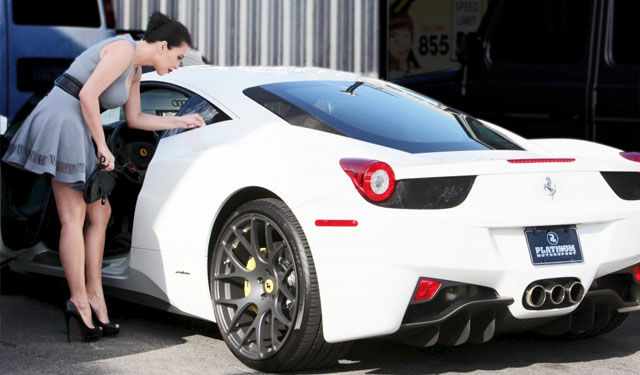 2. Ferrari 458 Italia
As you might have noticed already, Ferrari is the ultimate brand among rich and famous.
Not only do they bring the performance straight from the track, they also pair it with a dose of luxury which was only previously found in brands that mainly focused their cars around that word.
Ferrari 458 Italia is one of the best cars of today when it comes to driving pleasure, and its impressive V8 engine pumps out over 550HP, which is enough to push it to 62mph in 3 seconds. It offers top level performance, handling and a healthy dose of that Italian character only cars from that country posses. Just as most of other Kim's cars this car is fitted with sporty rims which significantly transformed it, for better of course.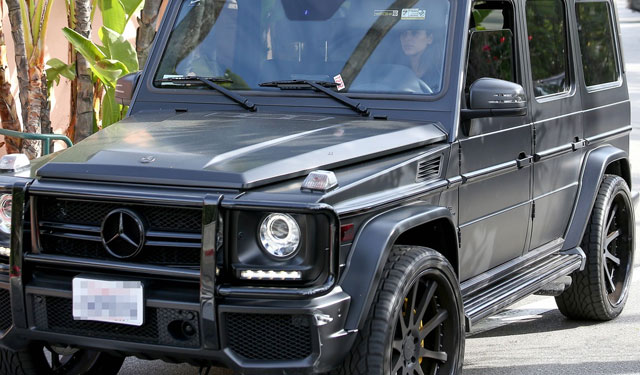 3. Mercedes Benz G63
Here is one SUV which is primarily reserved for wealthy people who know what a good car should be like. This sport utility vehicle has been produced for many years, and for a reason.
It offers off-road capabilities which are on the same level of the best off-roaders of today, even though it was first made awhile ago.
Besides that, Mercedes Benz G63 is a strong sturdy vehicle which offers top level protection in case of a crash and top level performance with twin turbo charged V8 engine that develops 550HP. This SUV has been slightly modified and made into something every car enthusiast desires. Big diameter rims made a real looker out of this car, and if you stumbled upon it, you would most definitely know it is Kim's.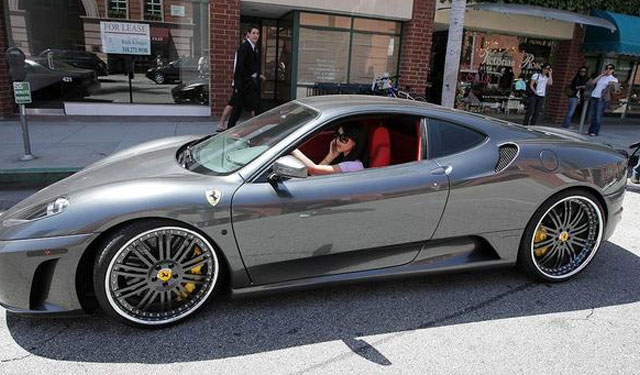 4. Ferrari F430
Ferrari F430 is a predecessor of a 458 model, and it set the rules when it comes to driver's experience.
Before the 458 came out, this car was considered as one of the best, and even though its successor came out, it is still a unique machine which offers driver's experience only few other cars can match.
This is actually a pretty good example of Kim's fine taste in cars. Its amazing V8 engine generates close to 500Hp and it's able to push this car to 62mph in 4 seconds. F430 might not seem as the top of the line car at the moment, but a true car enthusiast will recognize its qualities. It is also equipped with some mean rims to give it even better stance and appearance.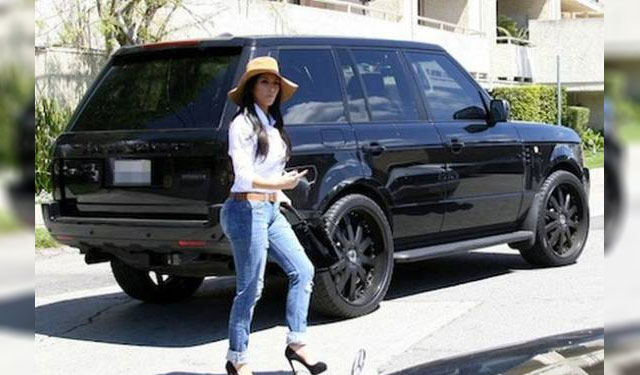 5. Range Rover All Black
One more choice in cars Kim shared with numerous other celebrities and other wealthy people is Range Rover.
This car is synonym for off-roading and they built their whole reputation around it. Their quality cars offer style, luxury and everything else you might need at a price which in celebrity world might be humorous.
This car didn't go untouched, it is equipped with big diameter rims which, we have to admit, make it much better. Black on black might not be the most desirable color scheme, but it still stands out. It is powered by supercharged V8 engine that make it capable of reaching 62 mph in 5 seconds. She likes it so much that she actually got another one but in different color.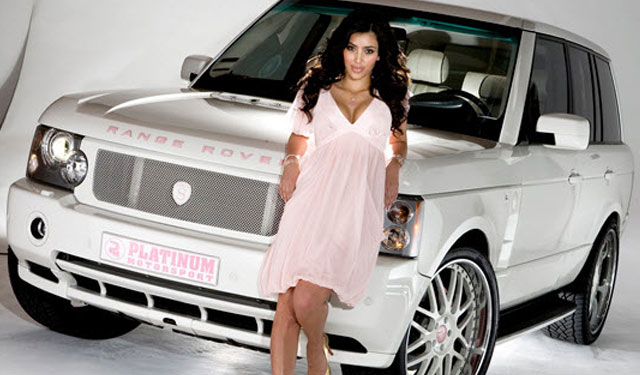 6. Range Rover All White
You probably wouldn't own two cars if you didn't like it. One obvious thing which makes her two Range Rovers different is color.
While the first one was all in black, this one is done all in white, and it is actually a car which Kim used in several photoshoots.
As we mentioned earlier SUV's are really popular among celebrities and even people which don't have as much money mainly because they offer better protection in case of a crash. Even though they might be thirstier than your everyday car, they offer off-road capabilities especially range Rovers, but Kim is not one of those people which take their car off-roading, but then again who knows what she does when cameras are not on.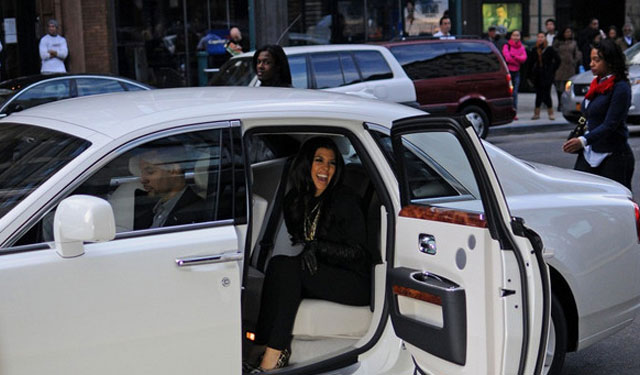 7. White Rolls Royce Ghost
Lot of car companies overuse the word luxurious nowadays, but still some companies perfectly define that same word with their cars.
One of those car companies is Rolls Royce, and Kim just couldn't stay away from it. It is one of those cars which are rarely seen on the road, and even if you manage to lay your eyes on one, you want to peek inside to see who's the lucky person inside.
It is a car that average person can only dream about, and it is also one of the cars which can get you most attention, and as we all know Kim likes attention. It is almost everything money can give, and that's why people admire it so much, and so does Kim.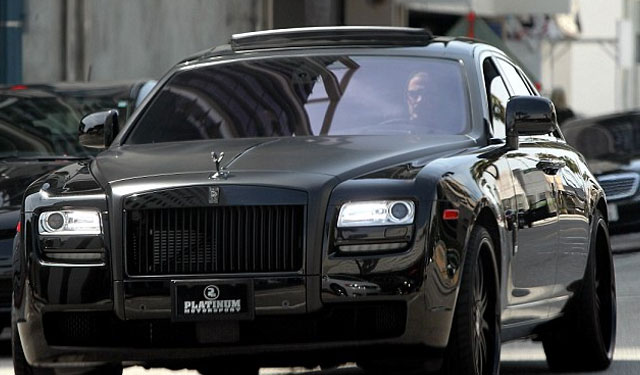 8. Black Rolls Royce Ghost
No you didn't read it wrong, Kim actually owns two Rolls Royce Ghosts, and it is probably her own way of showing her extravagance.
Even though this is a car which you want to ride in, rather than drive it, Kim has been seen behind the wheel on numerous occasions.
It seems like Kim appreciates the V12 6.6 liter twin turbo charged engine.
This car is not really a best looking car ever, but that doesn't mean that it doesn't look amazing. It just has its own style which is pretty much unique to this car brand. It is mainly focused on luxury, but this car is also technologically very advance, and it has to be since its owners are some of the most rich and powerful people on the planet.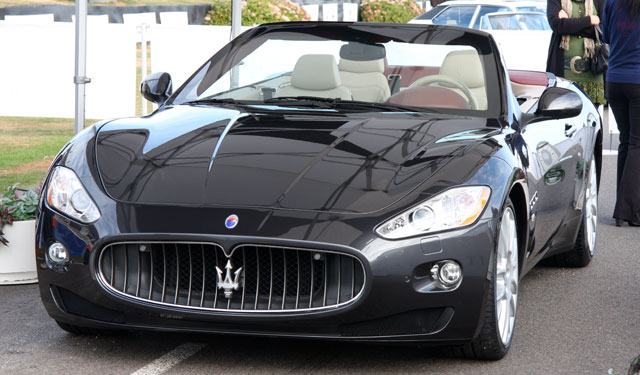 9. Maserati GranCabrio
This is one of the most attractive, exciting and fun cars in the Kim's collection. It just breathes out that Italian charisma, style, as well as performance, of course with a dose of luxury.
Even though this car has impressive performance numbers that are provided by V8 4.7 litre 450HP engine, Maserati GranCabrio is focused on providing unique experience like that you can't really find in any other car.
With this car, they accomplished that in every way and they made something unique that stands out anywhere. This car is also very comfortable so it is easy to live with on everyday basis. As we already mentioned, it is not all about performance, but it is overall a nice package which provides pleasure before anything else.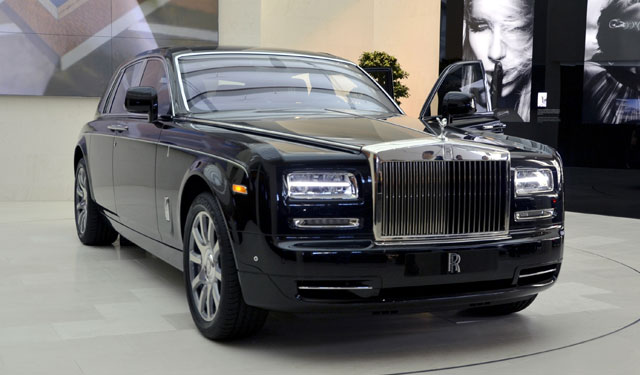 10. Rolls Royce Phantom
Here is one more car from Rolls Royce family in Kim's collection, and it is also one of the most favorable cars in the celebrity world primarily because of the luxury it offers and its enormous size which provides maximum comfort.
It is basically a 5 star hotel on wheels and it is definitely one of the rarest cars on the road, which makes it even more desirable.
Level of detail in this car is something that's still unsurpassed in the motoring world. Rolls Royce Phantom is powered by humongous V12 but due to its size and weight it reaches 62mph in 5.7 seconds. It is the best money can buy and that's why Kim probably wanted to get a car like this.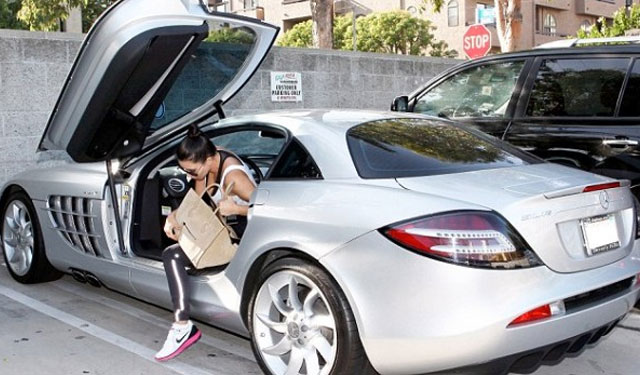 11. Mercedes Benz SLR McLaren
This is probably one car which you wouldn't expect Kim driving. It is made entirely out of carbon fiber which gave it sturdiness and lightness.
It also looks very unique, it has the seagull doors, and overall it doesn't resemble any other car on the road. It is a car which is on the bucket list of many men, even though it came out awhile back.
When this car was produced it possessed everything latest in the car industry and since all of that engineering was paired with those looks and amazing performance provided by supercharged V8 that develops well over 600HP, it gave it a legendary status. What did Kim see in the Mercedes Benz SLR McLaren we don't know, but it is a sure sign of her love for cars.