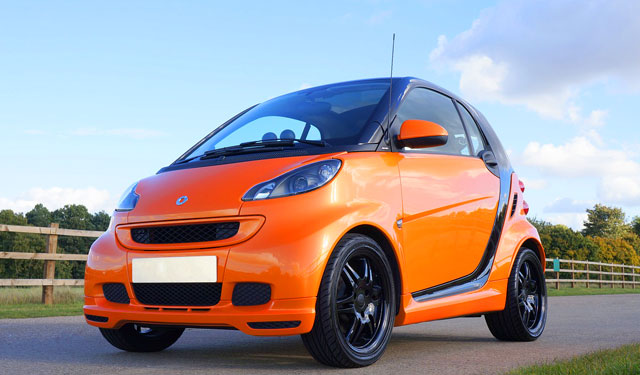 The smallest car on city roads can easily find a parking spot or go through narrow city streets especially in old European cities. Virtually, it is one of the most maneuverable cars around. When we hear the name of the company, we automatically associate it with intelligence or knowledge.
But actually creators of this project, Mercedes and Swatch, basically combined the starting letters of their names with the word ART. And indeed, combining all of the components into the car of these dimensions should be called art.
With length of 2.5 meters and width of 1.5, this miniature car rarely has problems finding a parking space. Small capacity of its engines means that you really shouldn't have any problems when it comes to fuel consumption. But don't expect to reach high speeds with it, not just because of the engines, but because of stability.
To drivers who like more of a dynamic ride, we would recommend installation of wider tires to compensate for this weakness. Besides this issue, in this used Smart review we'll discuss few more, which might change your mind if you ever thought of purchasing one.
Potential problems
Six speed semi-automatic transmission seemed like the best solution for this car, but many customers complained on the lag when shifting gears.Trunk size is quite small, but it still has enough space for your everyday shopping needs.
The issue comes with mechanism for opening rear window which is very poorly made, and it was responsible for many thefts.
Needless to say that many people didn't like a lack of power windows. Potential buyers should also know that the car has only two seats, so you can forget about your weekend family trips.
Quality of the engines is pretty solid, but occasionally you could have problems with exhaust. Problems occur when temperature suddenly changes, it tend to crack or even bend.
Also the longevity of the engines is not satisfying, given its small capacity and a lot of oil processing, so we would advise you to check it occasionally. Homokinetic or CV joints had issues with corrosion which really made it difficult to control the car in some situations. Another victim of corrosion was the exaust pipe. In this case rust would appear inside of it, so by the time anybody notices, it's already too late.
Engines
The original Smart had three engines. First up we got the gasoline 0.6 liter turbo with three different HP outputs of 45, 51 and 61.Then, there is also 0.7 turbo with 61 HP. And finally, Diesel version is 0.8 liter turbo, and it produces 41 of HP. Petrol editions had fuel consumption of around 5.1 for weaker and 5.9 liter for more powerful version. Diesel burns approximately 4 liter every 100 km.
Even though Smart has very little space it uses it very well and given its reasonable price, fuel consumption and solid diesel engine, we have to say that the car definitely has some advantages.
But stability problems, rear windshield, poorly made exhaust, high rate oil consumption and issues with corrosion shows you that not everything is fine and dandy. We'll conclude this used Smart review by just saying that this car is made for city traffic, so if you plan you use it for anything else, you better think twice.