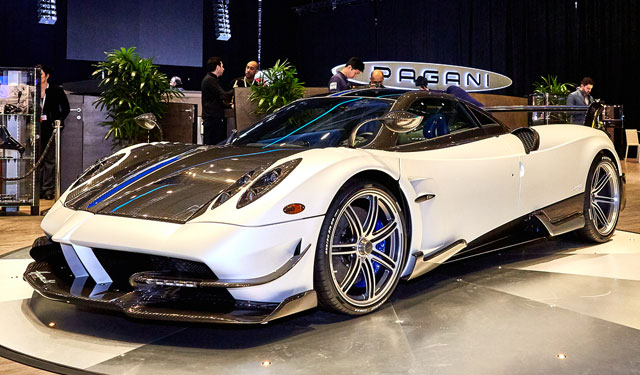 Pagani shook the world of hypercars by their own creation which is pretty impressive to say the least. Even though they had to compete with some of the strongest names they proved that they can deal with pressure and Zonda successor sold out its limited edition in less than two years.
Being the best, or at least challenging the number one spot requires major investments so price tag for Pagani Huayra is 1.2 million euros. Some of the targeted competitors were Lamborghini Aventador, KoenigseggAgera and Bugatti Veyron.
Engine
If you want to run with big boys you need a lot of power, so Italians went with 6.0L twin turbo V12 engine built by Mercedes-Benz AMG which manifests into 720 horsepower and 728 lb-ft of torque. This means that in less than 3.5 seconds, we can see Huayra reach 0 to 62, while the maximum speed set to 238 mph.
When it comes to transmission, racing manufacturer Xtrac made sure the 7 speed automatic or manual is available depending on your preference. EPA testing showed that in city drive the car gets 10 mpg (23 l/100km), and 14 mpg (17 l/100km) while on the highway. Power goes to the rear wheels which gives the edge to some of AWD competitors.

Interior
With high price tag the car should offer something really special. And indeed interior looks like a space shuttle with very thoughtful design. Carbon fiber steering wheel perfectly fits with gauges and the color schemes which are just amazing.
Air conditioning system is one of the best, mirrors take care of blind spots very efficiently considering the size of the car.
Overall with many small metal details done pretty well Pagani Huayra is looking very polished. Also worth mentioning is dashboard which gets illuminated during night time so you feel even more exclusive.
Stability but also comfort is improved with jet like automatic hydropneumatic front suspension. Four separate airelons which are activated at speeds greater than 50 mph improve maneuverability even more.
Pirelli P-Zero extra sticky tires are used on light alloy wheels to ensure that the car stays on the road. Additionally if you are one of those aggressive drivers, through feedback and vibrations Pagani engineers made sure that you stay safe.
Pagani Huayra feels very unique compared to other hypercar automakers like McLaren, Ferrari, Lamborghini or Bugatti. Driving this 720 HP beast gives you experience that some would compare with rocket ship. But since it is a limited edition with a very hefty price tag only exclusive group of people will actually own one.