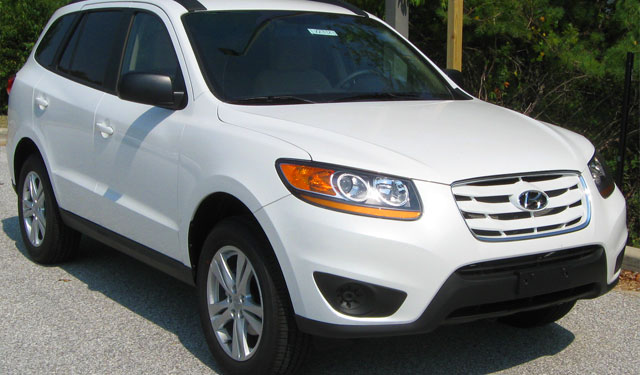 Even though everybody expected second generation of Santa Fe to do better on the market things didn't go as planned. Increasing body size, improving comfort, better powertrain technology and overall modernization was enough to make only half of the sales than before. With numbers like 50k in 2006 and 45k in 2007 the South Korean company didn't expect the sales to go down to 20k in 2011 before dropping even further to 11k a year later.
Before we go deeper into used Hyundai Santa Fe review, let's just say that second generation is considerably better than the first one. Increased price may have played its part or perhaps the world market crash scared of the customers.
Design and Interior
The design choices suited wealthy Americans more than they did Europeans. Same thing goes for the interior where today you can see its real value when you have the choice between 8 different editions of 10 year old cars. Cabin is quite comfortable while materials used are very durable.
With little bit of more cash you could get third row seats. A lot of minor details are finely done. For example the all the plastic parts are very solid but since they are varnished there will potentially be many scratches all over the place. Of course at Hyundai they were aware of this so in later models they minimized this problem.
Issues
Since Santa Fe has quality on its side there weren't many complaints to begin with. One of them is the gearbox which would sometimes just struggle to shift gears.
The issue was mostly with manual edition since the ZF automatic was very good and it could be destroyed only by not servicing it regularly every 120.000 km.
Owners also complained about the gas gauge which was not always accurate so it was difficult to tell how much do you have left in the tank.
Engines
Vehicle was available in front or four-wheel-drive which equally distributed torque between the axels. The American BorgWarner specially made it for Hyundai. In Europe most common choice was 2.2 L diesel with ether 155 or 197 HP which proved to be very reliable. Besides them, we can highlight two petrol editions, 2.4 L 174 HP and 2.7 L 189 HP.
Fuel consumption was about 9 L per 100 km for diesel while petrol burned significantly more and perhaps because of that it wasn't interesting to the buyers. Comfortable cabin, powerful 4WD alongside optional third row of seats and solid diesel engines are positives that make this car a good choice but pretty old multimedia system, outdated V6 gasoline engines and scratches all over should make you think twice before purchasing.
However, as you can see in our used Hyundai Santa Fe review, you can still make a pretty good buy if you stick to the diesel engines and automatic transmission. Every other issue is minor and it shouldn't play any role in your decision.