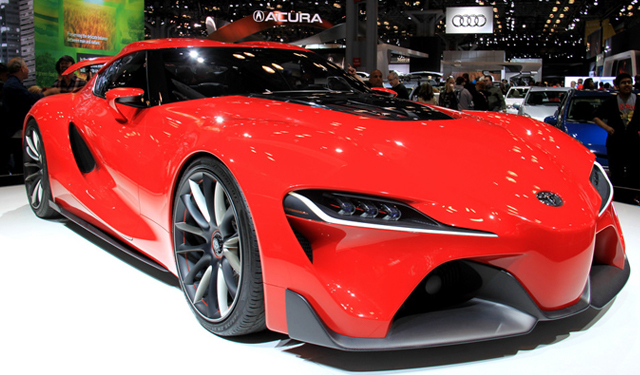 There was a time when gaming studios were paying crazy money to car companies for licenses so the certain models could appear in their game. Today, situation is little different. Popular driving simulations are a perfect way for car manufacturers to present their new masterpieces. Some even go that far that they present the car in a video game before they do in reality.
After Mercedes presented their Vision GT Concept in Gran Turismo 6, it is time for Toyotas FT-1 Concept. FT-1 is a sign of Toyota's attack on market of pure blooded sport cars which they neglected in last few years.
This is a coupe of classic proportions with a long bonnet, cabin moved slightly to the back, short tail and a rear wheel drive.
Designers found their inspiration in futuristic and aggressive lines. Sharp front end reminds us of a nose on a F1 car, especially the splitter which unmistakably reminds of F1 front wing.
Bonnet is partially transparent allowing the view of, for now, unknown engine. Roof has that double bubble style of Zagato's models and it smoothly drops to the back, while line on its tail turns into a wing.
Diffuser, placed between two huge pipes ensures FT-1 top stability sticking the back end to the road. Interior follows the exterior when it comes to design. Again, we see the futuristic design inspired by Formula 1. Everything is reduced to basics and there isn't anything that could distract the driver. HUD system also helps giving the driver all important information on transparent panel right in front of driver's eyes.
All necessary buttons are placed on the steering wheel which also has gear paddles on the back. Everything is in its place just for the driver, to make him as one with the car as possible. FT-1 one concept appears in the Gran Turismo with a special reason. Design team worked with a Polyphony Digital, creator of the game, on implementation into virtual world.
All of this is done so they can present the car to the main people of Toyota. President of Toyota, Akido Toyoda, drove FT-1 on the virtual Fuji Speedway, and after he had better time than he did with a Lexus LFA, he decided to go for the concept.
Even though Toyota FT-1 might be just a design exercise for now, there are some rumors that it might go into serial production. All in all, this car certainly looks amazing, Toyota needs another legendary car for sure and this really seems like the right recipe. Is this finally a sign of another Toyota Supra? You be the judge.