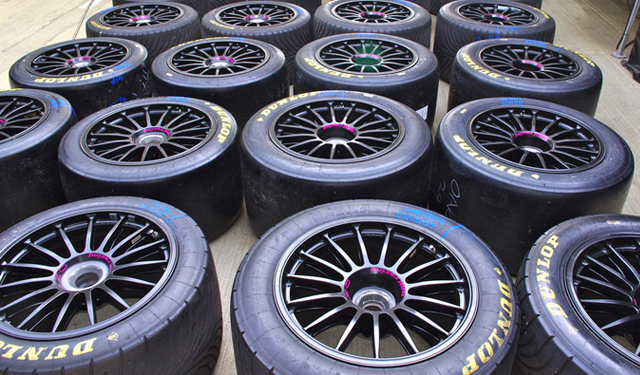 Car industry is working on a new ways to improve safety, however, it doesn't matter how good of a car you have, tires are the only things that are actually in contact with a road. So, all of those safety systems like ABS and ESC are not really that useful if your tires are not in good condition. This year on the Geneva Motor Show, Dunlop presented a special tire which contains computer chip that sends info to a car improving car characteristics as well as stability in corners and when braking.
This system sends info about pressure and temperature to the car's computer system.
Based on those information, computer can adjust algorithms regarding stability and steering improving the car's overall characteristics.
Advanced technology also shortens the braking distance with the help of ABS, car reacts better in corners and it is much more stable thanks to info ESC gets.
Advantage of this system is that the chip is actually mounted inside of tire instead of wheel, so it can't get damaged during the regular tire maintenance.
Tire characteristics can significantly change so all the info about tire characteristics like pressure and temperature play a major role. If the vehicle recognizes all of these changes its systems can adjust them making the vehicle safer. However, this technology is still in the testing phase and its release date is still unknown.
For testing of this innovative system Dunlop used SportMaxx RT tire which is based on racing technology. These new tires were mounted on Mercedes-Benz CLA 45 AMG and the same SportMaxx RT tires were approved for many other AMG models. Dunlop certainly improved their relationship with AMG and they improved their presence on the market of fast and durable cars.
As we already mentioned, it is still unclear when these tires will be released. However, it is clear that they are not going to be cheap, just like all other fairly new technologies. Even though they are intended for luxury sport cars at the moment, logically, as time passes, we should see them on more and more cars, that's if the tire proves itself as useful and practical.
Whatever the case is, hopefully this new technology will not be reserved only for people with a deeper pockets. System like this could actually make the biggest changes on wider market as long as they don't cost a fortune.