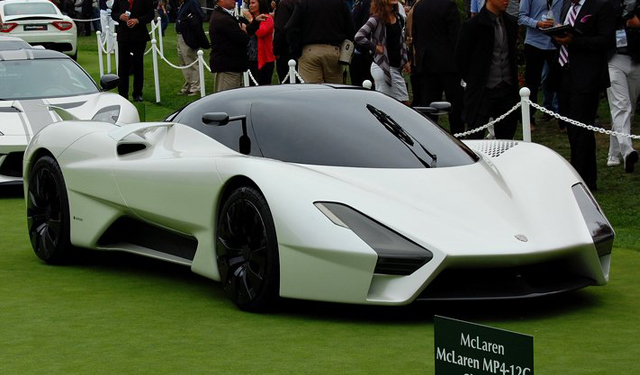 SSC or Shelby Super Cars is not really a famous brand around world but they developed some interesting cars. One of them is Ultimate Aero TT which was the fastest car in the world 5 years ago with a top speed of 412 km/h. However, Bugati presented more powerful version of Veyron in October of 2010 which took over the title of the fastest with its top speed of 431 km/h.
SSC has been working hard since then and they presented a Tuatara, which, according to them, is going to be the fastest in the world. Logic question is how fast is it? Well, there is no official info for right now, but there are some speculations that its top speed might be around 440km/h.
How is that possible? Well, 7 liter twin turbo engine which develops 1350HP might be one of the reasons and the other one is probably carbon fiber. They also used aluminum for zones which absorb collision energy.
Thanks to the use of light weight materials, mostly carbon fiber, which is used to even make the wheels, cars weighs only 1180kg.
Besides its top speed of 440 km/h it also proved itself as very capable when it comes to acceleration.
Tuatara goes from 0 to 320km/h in 17.7 seconds. It goes from 0 to 100 km/h in 2.8 seconds.
As we can see Tuatara's looks amazing and its engine is going to be able to compete with the newest creations from the top companies like Ferrari, McLaren and Bugati.
Just as you though, this newest super car will come from America is going to be reserved for people with extra deep pockets. Even though there is no official information when it comes to price, there are some speculations that it's going to cost around 1 million dollars.
Jerod Shelby stated that they solved all of their financial issues and that SSC's factory should be finished by the spring of 2015. For the first year, they plan to produce 12 cars, but later that number would grow and they will be able to produce around 40 cars a year.
Some extremely well made super cars came from United States, hopefully this will be one of those masterpieces but we won't know for sure until it comes out. Perfect recipe is there and according to information we already know about this car, it is going to be success for sure.