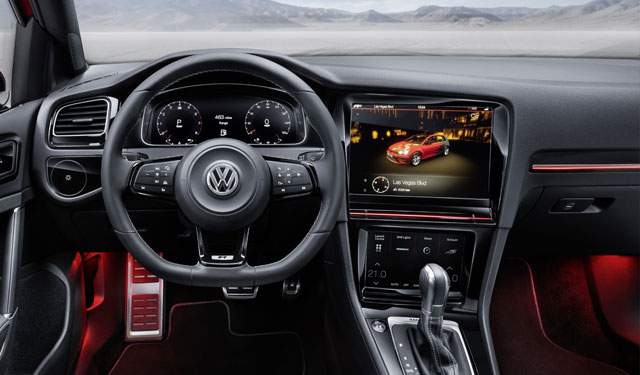 VW presented their vision of the future interior in Golf VII R Touch model which doesn't resemble anything we've seen yet. Many of the presented elements are supposed to find their place in the eight generation of Golf, which we're going to see sometime in 2017. As we mentioned above the name of this new interior concept is R Touch, and just as the name says touch is the primary way to apply any command, while voice and hand movements come in second.
This newest interior implements three screens, from which two are touch screens. First screen replaces the classic dashboard and it is called Active Info Display System which has been presented earlier in their Passat model. It displays everything from speed to RPM and the GPS route, as well as some other information regarding the car itself.
Second one is the gigantic 12.8 inch touch screen which is placed in the central console.
This screen is all about multimedia and it is supposed to show future of communication between man and smart phones, tablets, etc. Its main job is to make the communication easier so the driver can focus on the main job- driving.
This multimedia screen is also equipped with a 3D camera which monitors driver's hand movements, and it enables driver to make certain changes without any contact.
Third screen is placed below multimedia screen and it is also something that hasn't been used before. It is 8 inch touch screen which is used to manage air conditioning, audio system and other similar functions, replacing the classic switches and knobs.
What's really interesting, functions for lights, windows, start/stop are also touch sensitive instead of classic buttons and switches. Even the multifunctional steering wheel is done in the same manner. Main people of VW stated that lot of these innovations are ready for implementation in their future models, while some still need to be refined.
VW certainly showed us how the future will look like when it comes to interior, and besides the fact that they made everything more functional, they also improved multimedia experience significantly. It might be hard for some to get used to this new concept, but nonetheless, it is something that's going to improve driving experience in the future for sure.