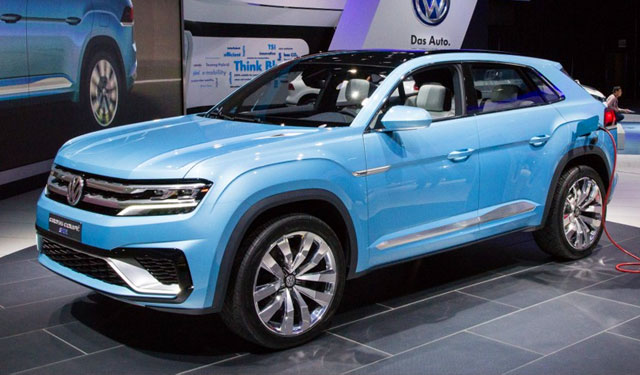 Sport SUV's became popular a while ago and VW decided to go all in and create something that would compete with the biggest names in the game, primarily with planetary successful BMW X Series. Concept models they've created and presented around the world have been accepted best in the United States. Just for that reason VW Cross Coupe GTE is going to be produced in their factory in Tennessee and it's primarily intended for US market.
One more reason for this kind of tactic is that 15 million new cars are sold in the North America from which most are big luxury cars, while in Europe small economic cars get most sales. This new SUV is supposed to hit the market sometime in 2016, while its production is supposed to start in the late 2015.
Even though this new car is mainly focused on US, it still has that European flavor, and by flavor we mean design which evolved into something beautiful as well as modern.
One more proof that this car is intended for big American roads are its dimensions. It is significantly larger than Touareg and dimension wise it is lot closer to its competitors.
Its exterior design is striking no doubt about it, aggressive grille paired with LED lights really looks good, while the sharp design lines made the overall package look stunning. First VW model which is supposed to implement some of these design features is Touran, which is supposed to be presented soon.
The word coupe in the name is justified by the descending roof line which somewhat reminds of Evoque. Impressionable wheel arches paired with 22 inch rims give this car muscular stance, while the chrome pieces gave it taste of luxury.
When it comes to powertrain, V6 3.6 liter engine paired with two electric motors give this car 360 HP, which are able to push this car to 60mph in under 6 seconds. As we said in the beginning this car is mainly focused on US market and main people of VW still didn't decide if the car is going to be sold in Europe. Whatever the case is VW enthusiasts from both sides of Atlantic can't wait to see production version of this car. It is definitely impressive and it shouldn't have any problems battling Merc's and BMW's in the same class.