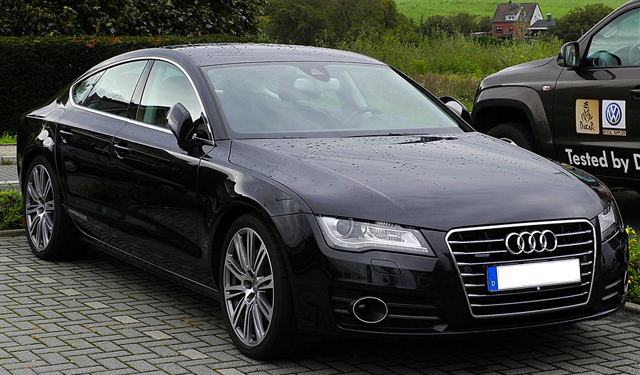 After refreshed Audi A8 was presented at the end of 2013 it is time for A7 Sportback. This attractive five door model which connects station wagon practicality and a Audi luxury was introduced in 2010.
It is almost 5 meters in length and it's only 16 centimeters shorter than the standard A8, however, it has more trunk space and with a back seats folded down it is 1390 liters. It is one of those cars intended for people that want to have touch of luxury and comfort without compromising overall practicality.
Visual redesign is based on implementation of certain technological components and one new 3.0 diesel engine. To be more exact they introduced modern Matrix LED lights, different single frame grill, and different shape exhaust pipes.
Most attractive addition are most certainly Matrix LED lights which light up the road much better without distracting other drivers.
Just to remind you, its body is made from combination of aluminum and steel which resulted in low overall weight giving this car sporty characteristics.
Sport style of exterior is also transferred to interior which gets your attention by sophisticated design and expensive materials.
Besides the quality leather and rubberized plastic, there are also some details done in aluminum.
High quality wood is also used which gives the impression of exclusivity, while massive Audi seats are in charge of the comfort. As addition to impressive comfort which Audi is known for, you can add four different versions of seats in combination with massager, heating and cooling. MMI multimedia information system is standard, while head-up display which projects most important information on windshield is offered as additional option.
Two TFSI and three TDI engines are offered which cover anything from 218 HP to 450 HP, and as we mentioned before one more TDI engine is added which develops 272 HP. Least powerful engine which develops 218 HP is all about fuel economy- it takes only 4.7 liters for every 100 km.
Strongest engine which develops 450 HP has ability to turn of certain cylinders when top performance is not required. Strongest bi-turbo diesel develops 320 HP and it is paired with eight speed tiptronic automatic transmission while seven speed S-Tronic automatic transmission is paired with all other engines.
There is even Quattro available for people that want all wheel drive. Redesigned A7 Sportback will come with a new choice of wheels that range from 17 inch to 21 inch. Sales of the redesigned model started in June with a base price of 51300 Euros, while sport version costs 82300 Euros.