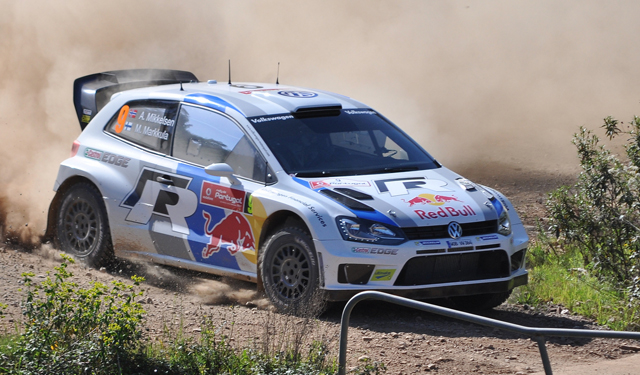 VW got fifth win in the championship in the five races, and this time it is a double win, while Mikkelsen finished fourth. Including the last season, VW got 9th win in the row breaking Citroen team record of 8 wins by one man- Sebastien Loeb.
At first, things didn't look so bright for the VW. Before the race itself, which was considered hardest ever for man and machine by many, it was raining for weeks. Everybody knew that the tracks will be much harder than years before because many of them were ruined by water.
Rally Argentina included 14 stages this year which were 415 km long altogether. Longest stage was 52 kilometers long. VW trio took 31 places on podium from possible 42. That's proof enough of their domination which seems more predictable and less interesting.
We got two exceptions in this whole rally, one is Kris Meeke in Citroen which somehow managed to finished third, and the other one is Mikko Hirvonen in Ford who was the only one which showed some resistance.
However, Hirvonen made a mistake in second stage which cost him points, and his team 75000 GBP.
After Ford team fixed his crashed car he raced courageously and he got some impressive results proving everybody that he would get a place on a podium in different circumstances.
Mikko said that his co driver deserves the most credit for those results due to his organization and ability to guide him through rough terrain. After everything was said and done, Hirvonen finished 9th.
Therry Neville got the fifth place even though he didn't chase the results due to the issues with a transmission. Robert Kubica didn't race in the WRC2 but rather in the strongest group where he didn't disappoint finishing sixth. Elfyn Evans finished seventh and he proved that Ford's tactic to hire young driver is a formula for success.
VW leads in the championship by 97 points in front of Citroen team, while first three places among drivers belong to VW pilots. First is of course Ogier with impressive 110 points, or 22 points in front of Latvala who is 40 points in front of Mikkelsen. Next rally is on gravel in Sardinia. As we already mentioned VW is dominant and there might not be a lot of surprises on next rally, but on the other hand, rally is a sport that's unpredictable and anything could happen.