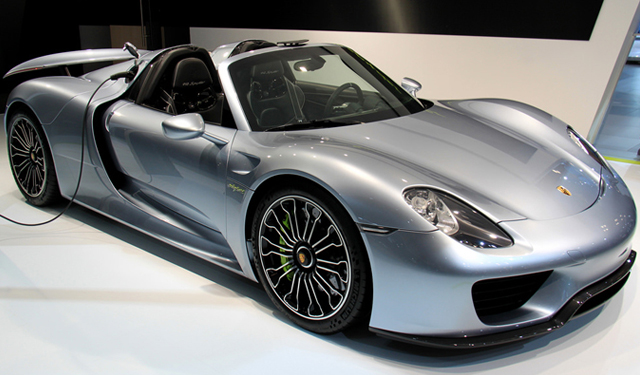 When it comes to car design, Porsche is well known for evolution of its existent models rather than creating something unique and new. In this case they stepped out of the boundaries and they created a new and unique car which really is a masterpiece. Even though it is like no other Porsche we've seen before, it still has some elements from previous models like Carrera GT, as it is supposed to be a successor of this somewhat aged Porsche super car.
918 Spider is a full blooded plug in hybrid. CO2 emissions are 70g/km, and average fuel consumption is unimaginable 3 liters on 100 km. 3.4 liter gasoline engine develops over 500 HP, while two electric motors, one on each axle, develop 218 HP. This V8 unit is advanced version of already proven engine which comes directly from racing world, more precisely from RS Spider which races in LMP2 class of Le Mans.
Power is transferred to wheels over seven speed PDK double clutch transmission.
Lithium ion batteries are placed behind the cabin and they can be charged on standard household outlet.
Of course, kinetic energy which is released by breaking is turned into electricity by electric motors which recharge the batteries.
You can choose one of the 4 modes on the steering wheel. E-drive stands for economic mode in which car is only powered by its electric motors.
In Hybrid mode, both combustion engine and electric motors are used compromising between performances and fuel economy, while in sport hybrid mode also both combustion engine and electric motors are used but with focus on performance.
In Race Hybrid mode performance is on top level and there is also E-boost which gives it injection of additional power. Its body is made out of carbon fiber with wide use of magnesium and aluminum giving it the overall weight of 1490 kg. It goes to 100km/h in 3.2 seconds and its maximum speed is 320km/h which are amazing numbers for a car which is actually hybrid.
Latest Porsche masterpiece had a chance to prove what it's all about on one of the most demanding tracks in the whole world- Nurburgring Nordsschleife. It circled the track in 7 minutes and 30 seconds, following the steps of the famous Carrera GT.
Unique combination of great fuel economy and amazing performance is something future cars are going to be all about. Whether you're advocate of hybrid technology or not, this technology has certainly found its way to the world of supercars.