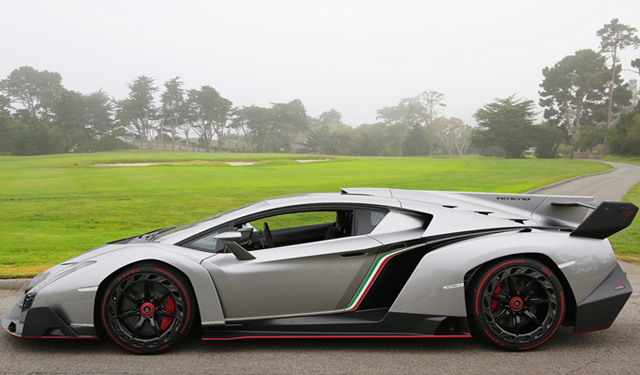 Lamborghini Veneno was created to celebrate a 50 years of existence of Lamborghini. In 1963 rich Italian entrepreneur started a car brand which is a symbol of extremes in car world. Half of century of existence has to be celebrated properly and there is no better way to mark it than with a special car. In accordance with tradition, name was picked from the world of bull fighting. Veneno is the name of one of the strongest bulls ever which actually wounded the famous toreador Jose Sanchez Rodriguez.
Veneno brings aerodynamic efficiency of competitive prototypes from the streets. Each one of its details has a function and maximum aerodynamic efficiency with least resistance. Also all of these details are designed so you know that they belong to Lamborghini at first sight.
Front end of the Veneno is shaped so it has perfect air flow and maximum downforce with the Y lighting motif.
The whole front has a role of a reversed airplane wing. Big channels guide the warm air away from the front and wheels.
It has scissor doors just like all the modern Lamborghinis. Fenders are somewhat separated which actually comes from the era of competitive class of prototypes and they improve the airflow.
Profile of Veneno is easily recognizable with wide hips and big openings for wheels.
Back end is also optimized for maximum aerodynamic efficiency. Flat bottom end actually transforms into diffuser and it increases aerodynamic pressure. Big openings on the body guide the hot air away from the engine and only closed part of the back end is reserved for the license plate. Back lighting is also in Y shape, in this case in horizontal position.
Engine cover also has six openings for better cooling, and air intakes are shaped like shark fins which improve aerodynamic properties in corners. Special lightweight wheels are 20 inch in the front and 21 inch in the back with a central element which also has a function- its shape guides the air toward brakes for better cooling.
There are actually only four made. One is going to stay at Lamborghini and other three are going to be sold for over 4 million dollars each. Lamborghini has a lot of experience when it comes to working with carbon fiber. Carbon fiber reinforced polymer monocoque is the "backbone" of the Veneno. Similar to Aventador, front and rear subchassis are made from aluminum.
All exterior panels are made from materials that are strengthened with carbon fiber. It is possible to register Veneno anywhere in the world and it even has systems like ESP and air bags. You can see "naked" carbon fiber in the interior. Seats are made from carbon fiber and the whole cockpit is covered in CarbonSkin material.
All that use of carbon fiber actually shows when it comes to weight. Veneno weighs 1450kg which is 125kg less than Aventador. Its weight to power ratio is 1,93kg/HP. With maximum power of 750HP, it goes to 100km/h in 2.8 seconds while its maximum speed is 355km/h. All power comes from 6.5 liter V12 engine.
Veneno certainly marked the 50 years of existence of Lamborghini. Some might be judgmental about its looks, but keep in mind that this is what Lamborghini is all about. It is extreme and unconventional, and that's what we want to see from Lamborghini.