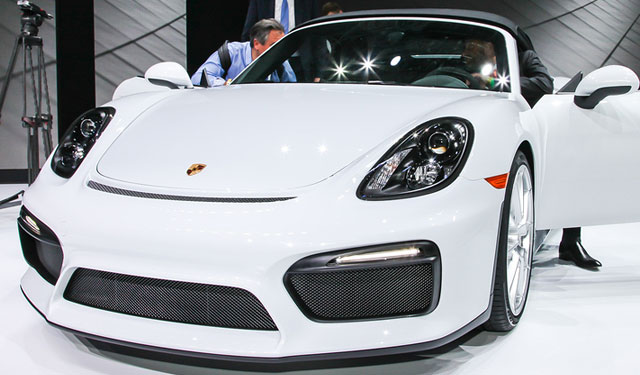 As all car enthusiasts already know, Porsche is near the top when it comes to performance, design as well as engineering. However many of us have been kind of skeptical toward one of the cheapest Porsche car out there, the Boxster. It always gave out that impression that it was intended for women, even though that's far away from truth.
On the other hand it didn't really have attractive design either, it was much more tamed than other Porsche models. However, all of that is about to change with a new Porsche Boxster Spyder which is all about driving pleasure and performance. On the other side even design is improved and it's much more aggressive.
This car is intended for some of their most demanding customers who are looking for sporty performance and maximum driving pleasure.
Compared to the standard Boxster, this car is much more aggressive, it is lighter and it has stronger engine.
Front is dominated by huge air intakes which derived from another Porsche model, the Cayman GT4. Other details like contours on the engine cover are more pronounced giving the car stronger look.
It is also equipped with a rear spoiler to increase downforce at high speeds. To reduce weight and improve overall performance Porsche redesigned the roof mechanism. Thanks to this, roof and mechanism are much lighter, but they are not completely automated like in standard Boxster.
Most of the process is automated, but you still have to make the main connection by hand. To improve the whole experience Porsche also equipped this car with sport seats and steering wheel. To reduce weight even more they got rid of multimedia system and air conditioning replacing them with a stunning view of the sky and the amazing Porsche engine roar.
You can still get the multimedia system and AC but you have to make special request. When it comes to the engine, this car is equipped with a 3.8 liter 4 cylinder boxer engine that generates 375 HP, which is paired with 6 speed manual transmission only.
This combination enables this car to reach 62 miles per hour in 4.5 seconds with a maximum speed of 175mph. To keep this car on the road, they had to equip it with better brakes and stronger suspension. If this is your dream car, keep in mind that you won't be able to get it before July, and you'll have to spend 80000 Euros on it.