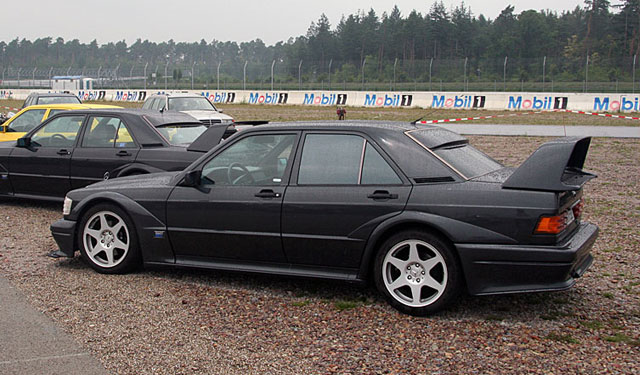 Mercedes' reputation speaks for itself, and they made many legendary cars throughout the years which were available to almost everybody. However one car is made in only 500 units and it is one of the rarest out there.
This car is Mercedes 190 Evolution II and it was intended for then very popular DTM Championship. It was their answer to planetary popular BMW Sport Evolution as well as one of the fastest cars on DTM the Alfa Romeo 155 V6 Ti.
Their first sport sedan with a 190 E 2.3 16 badge came out in the 1983 and it was unveiled on Geneva Motor Show.
It was a real racer at the time with an engine that developed close to 200 Hp, to be more precise 185.
This was enough to give it the maximum speed of 230km/h, while it was able to reach 100km/h in little over 7 seconds.
This feisty little engine was developed in cooperation with British specialist Cosworth. This model also differed on the outside with a sporty body kit and aluminium wheels. One of the most known promotions of this car was the exhibition race of 190's in 1984 which was on the opening on the Nurburgring.
There was 20 identical Mercedes 190 2.3 16 and there were some of the most known racing names in the driving seats like Alain prost, Niki lauda and keke Rosbers, but there was also young Airton Senna who won the race.
After this publicity stunt, people went crazy for this car, and it became one of the most popular cars among sport sedans. There were few other versions of this car which gave it more power and subtle exterior differences. However, it all ended up with our hero the 190 E 2.5 16 Evolution II model.
This version developed 235 HP which was enough to push this car all the way up to 250 km/h giving it 0 to 100km/h time of only 7.1 seconds. In its AMG racing version this car developed 373 HP and it reached 300 km/h. This is one legendary car, and even though it might not be as known as BMW M3, it can still match it in every way.