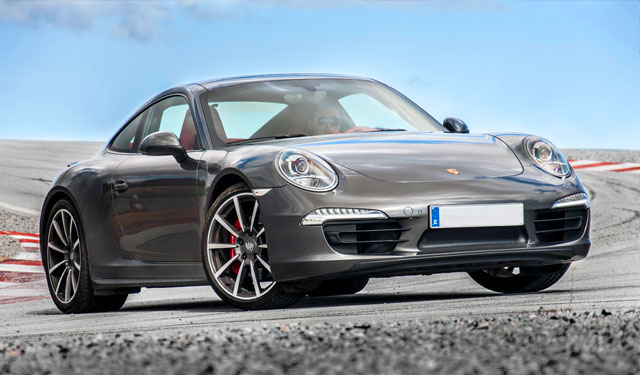 Porsche has always been a special brand in hearts of many car enthusiasts. While some might argue that unchanged look is one of their biggest disadvantages, others embrace the same Porsche strategy.
As you might have already guessed, new Porsche 911 Carrera looks exactly like its predecessor on the first glance. They implemented few new details just to refresh it a bit, but all combined, they didn't do much. So first thing we notice are the new bumpers with bigger air vents and slightly changed covers.
Day lights have been removed from the front bumper and placed in the headlights themselves.
However, the biggest change on this car is done on the engine vents, where vertical openings replaced horizontal ones, primarily for better cooling.
We can also notice redesigned wheels which look pretty good, and new door handles. Refreshment is most noticed in the interior which has new multimedia system and modernized navigation.
There is also newly redesigned steering wheel which gives this car sportier feel. Steering system which has been available only on Turbo and GT3 version has become a standard in the new Porsche 911 Carrera. New steering system allows back wheels to turn which results in better stability in corners.
Engine
Biggest change on this car is the engine itself. Porsche decided to get rid of atmospheric engine and go for the turbo version instead. Standard 3 liter engine is powered by two turbos, which ultimately resulted in the output of 370 hp which is 20 hp more than its predecessor. In the more powerful S version, engine is going to be tuned to 420hp. This engine pushes new Porsche 911 Carrera to 62mph in 4.2 seconds which is 0.2 seconds faster than the previous one.
When it comes to S version, it reaches 62mph in 3.9 seconds which is also 0.2 seconds faster than previous generation. Maximum speed is just shy of 200mph. The biggest advantage of this new setup is 12% reduction in fuel consumption and the same reduction in emissions.
All in all it is a nice car which moves in the same direction as previous generations, and even though this might come hard to some Porsche purists, new 911 needs something exciting on the exterior. Few aggressive details, more visible changes on the front and rear would do the trick.