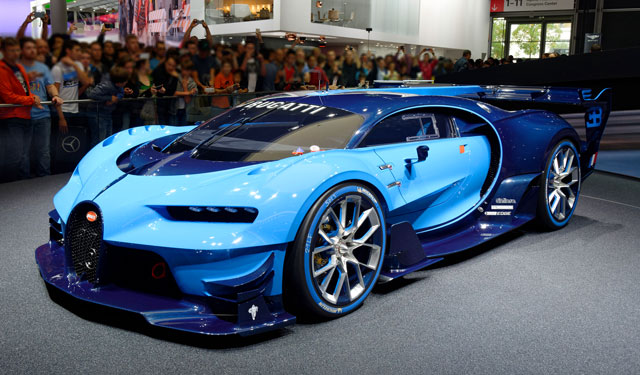 When we recently heard that the last Bugatti Veyron has been sold, one big question emerged. Will it get successor that will fill those legendary shoes. Even though we didn't expect to get an answer so fast, we got it, in a virtual form called Bugatti Vision Gran Tourismo.
Believe it or not, this car was actually envisioned by the creators of a game of corresponding name, and unlike many other visual creations, no matter how stunning they were, this one was actually developed and shown on the Frankfurt Auto Show.
Unlike its predecessor which didn't really look as good as let's say Ferrari, Bugatti Vision Gran Tourismo is a true stunner which can, design wise, compete with the best and biggest names in the industry. At least that's what it looks like at this moment, but that can change if they alter design too much.
First thing we can notice when we take a look at this car is uncanny resemblance to Veyron, and even though they share some of the same design lines, they managed to make this car much more appealing.
On the other side it is supposed to be powered by even more powerful engine which is supposed to develop around 1500 horsepower.
This kind of power is truly amazing on a production car and it is supposed to give it some amazing performance numbers.
It is going to go from 0 to 62mph in just over 2 seconds while the maximum speed is going to be astonishing 280 miles per hour. Even though this might not be the final look of the Veyron successor, it is going to look much like it.
When it comes to price, it is going to be astonishing as well and it is going to exceed 2.5 million dollars. Some of you might wonder who is actually buy a car like this, but keep in mind that there are some people who have extremely deep pockets and garage full of exotic cars, which needs to be spiced up with something even more extreme.
Production numbers, just as you might have guessed, are going to be extremely limited, and it is expected that this car will be produced in only 500 units. All in all, Bugatti Vision Gran Turismo is an amazing car, worthy of carrying Bugatti badge, but it still has to meet all of our high expectations to become a real legend just like its predecessor was.