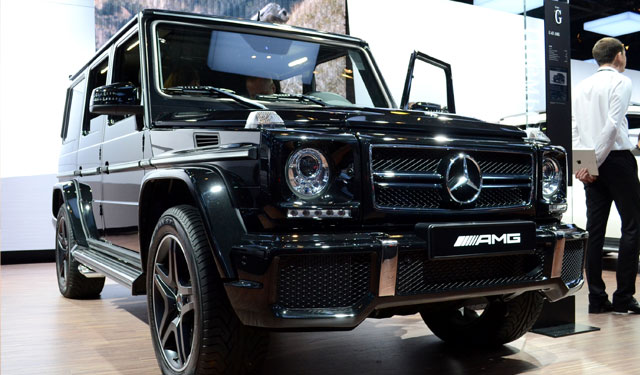 Mercedes refreshed their best off road model again, of course we are talking about Mercedes G Class which is their oldest model that's turning 36 this year. It is one of the rare pureblooded SUV left on the planet, but that doesn't mean that it fell behind when it comes to performance or the comfort.
To meet all the eco norms and to give it some more power Mercedes introduced new engines which are more ecologically acceptable as well as more powerful. They are also offering brand new version called G500 which is powered by the mighty twin turbo V8 gasoline engine.
Suspension is improved as well with the new more sensitive ESP system which is more stable, safer, not to mention more comfortable.
Improvements are obvious on the inside as well as outside, and to satisfy their more demanding customers they also offer two AMG versions.
The mentioned twin turbo V8 which is going to be available in 2016 model is borrowed from their AMG GT and AMG C63 model.
To give it desired characteristics, they had to do certain modifications which resulted in the output of 422HP and 610Nm of torque.
Main advantages of this new engine are its compactness, V configuration and low emissions for this amount of HP. They achieved better combustion with the new and improved fuel injectors as well as direct fuel injection. They also developed cylinders using the Nanoslide technology which made them two times stronger than the ones made using conventional method.
These new cylinders create less friction which in return improve lifespan and fuel economy. To improve mpg, they also implemented start/stop system on some of the models, which as we all know, turns off the engine in the situations it's not needed, for example at traffic lights.
Just like its predecessors, this SUV is also made on the heavy duty chassis. For best performance they gave it the best engines, 4wheel drive and impressive transmission. Standard G Class suspension is improved by new active shocks which allow better adaptation to different terrains. When it comes to performance on the road, their engineers improved ESP, ASR and ABS systems which shortened braking distance and handling.
Sport mode is also very impressive, and it gives G Class even more power and traction on the tarmac without losing any of the off road capabilities. G Class is definitely incredible SUV which Mercedes managed to make even better.