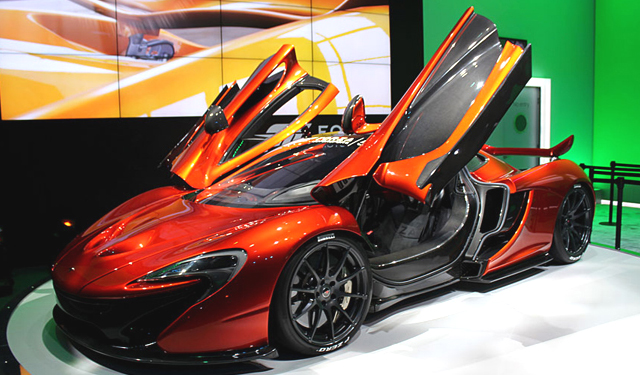 Everything a car industry has to offer is implemented into P1. Power is transferred to wheels almost instantly through IPAS (Instant Power Assist System). It has 903 HP and 900 Nm of torque and its CO2 emissions are 200g a km. Engine is also McLaren product. It is a 3.8 liter twin turbo V8 which is paired with high efficiency electric motor.
This combination makes the P1 amazingly responsive. It is easy to drive in everyday life and it is ready to rock when you step on the gas pedal. V8 twin turbo is actually a new version of already well known M838T, which is significantly advanced when it comes to cooling system and durability under higher pressures. Engine block actually incorporates electric motor. It is capable of producing 727HP.
Lightweight electric motor is made by McLaren Electronics. It delivers 176 HP which are available instantly.
Besides this, McLaren also developed a boost system or IPAS which delivers this power to driver in a blink of an eye.
Needless to say that these kind of performances weren't seen on a car until 2013. Electric motor is placed directly on V8 engine.
Combined power is transferred to wheels by 7 speed double clutch gearbox. By this, two power units operate in complete synergy.
One more benefit of electric engine is ability to change into higher gear faster. This is done through instant negative RPM in the time of change, which make engine RPM fall as fast and efficient as possible compared to wanted engine speed.
Besides extreme measures when it comes to overall weight, the same was done with energy optimization. When you lift your foot of the gas pedal, electric motor returns the energy into batteries, which would otherwise be lost in braking.
McLaren P1 is a real technological marvel. It can be driven in different modes, so besides the top performance, it can be driven almost in complete silence. We already mentioned the performance numbers, but don't underestimate its electric components. P1 can go over 20 km just on electric motor, which is great when you consider the fact that most city runs are closer than this. When batteries are emptied, gasoline engine turns on and recharges them.
On its steering wheel there are buttons for DRS (drag reduction system) and IPAS (instant power assist system). DRS on P1 is similar to technology which is used on F1 cars. Speed increases by reducing drag on rear end. In P1 case, it can reduce drag up to 23%. IPAS is designed so it delivers the power instantly. It has 176HP at its disposal.
When this car was in development phase, IPAS was considered more important than energy storage. When it comes to batteries, they are lightweight with best mass to energy ratio. They achieved that by using high energy cells and innovative cooling system. Its sophisticated cooling system ensures that each cell is cooled evenly. They weigh only 96kg.
We saved the best for last. P1 goes from 0 to 100 km/h in less than 3 seconds, from 0 to 200 km/h in less than 7 seconds, but the most impressive thing about P1 is its sprint to 300km/h which is done in less than 17 seconds. Its maximum speed is electronically limited to 350 km/h. Only 375 will be made with a starting price of 1.34 million dollars.