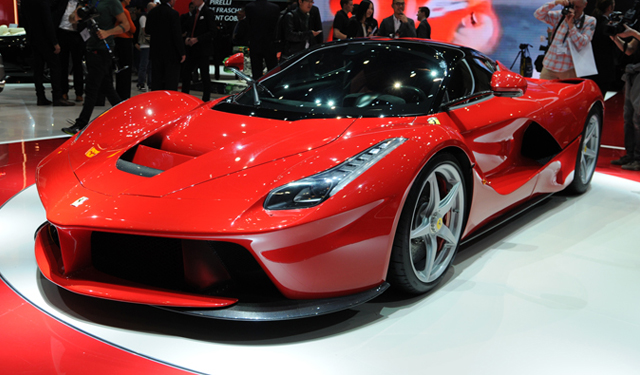 Ferrari managed to get all the attention at 2013 Geneva Motor Show with their latest creation- the super car under not so attractive name LaFerrari. Planned 499 cars were sold in the record time; price was not the issue even though the latest Ferrari costs staggering 1.75 million dollars, but for true Ferrari enthusiasts' money does not get in the way especially when we consider the fact that price of these cars only grows with time.
First challenge was shaping the cockpit around the hybrid systems. Goal was to maintain the ideal weight distribution and compact wheel base. They managed to reach their goal since most of its mass is between two axles giving the LaFerrari low center of gravity and amazing stability. Chassis is made out of 4 types of carbon fiber connected in multiple layers.
Ferrari's Formula 1 team was in charge of this job. They used their special techniques adding the high pressure and temperature to the process.
Result was a lightweight chassis that is done to the highest standards. Driver seat is fixed and it is created to the specific measurements of the future owner.
Pedals and steering wheel are adjustable. Steering wheel has that racing feel with bunch of buttons and gear paddles on the back.
The whole interior is inspired by racing cars with that touch of luxury.
Seat position is similar to the one in Formula 1, which shouldn't really be a surprise since Fernando Alonso and Felipe Massa had an important role in this car's creation. This is not a small car in any way. Its exterior dimensions are 4702x1992x1116mm, with a wheel base of 2650mm, and it is really striking on the road.
Design team was working with engineers that were in charge of aerodynamics to accent connection between form and function. Result is extreme and innovative design which is based on Ferrari's rich heritage. Sharp-low front end and muscular wheel arches are clear reminder of Ferrari's sport prototypes from the 60's.
LaFerrari is the first car in this legendary company that has HY-KERS system implemented, but before that let's talk about its "conventional" engine. It is a state of the art V12 6.3 liter engine which develops 800 HP. Its V12 engine is paired with electric motor which develops 163HP giving it combine output of amazing 963HP.
900 Nm of torque are felt even at low RPM. Due to the synchronization of electric motor at low RPM and combustion engine at high RPM, power is delivered at all times. Hybrid system is consisted of batteries and two electric motors- one for wheels and one for other systems in this car. Batteries weigh 60 kg and they are placed on floor of LaFerrari. The whole HY-KERS system weighs 140 kg and it is placed longitudinally for better weight distribution.
Batteries are charged in two ways: when braking, and every time when V12 engine works on higher RPM than needed like when going through the corners. In that case, instead of sending power to wheels, it is turned into energy that's stored in batteries.
Electric motor is paired with F1 dual clutch gearbox which helps with weight distribution, but it's also more efficient when it comes to energy consumption. LaFerrari reaches 100km/h under 3 seconds, 200km/h under 7 seconds and 300 km/h in 15 seconds. Its top speed is over 350 km/h making this a fastest Ferrari ever.