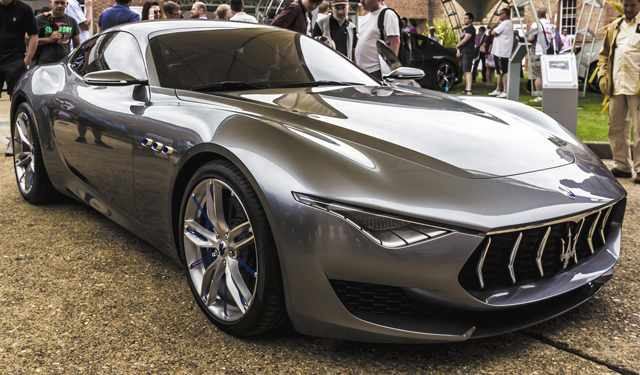 Car this beautiful can come from only one place – Italy. Italians proved us many times that they are the masters of design. Maserati one the other side was always a special car brand among automobile enthusiasts, and even though their cars might not be the fastest, they offer the experience that much more expensive cars can't give you. This time they presented Maserati Alfieri Concept on the Geneva Motor Show and it is undeniably stunning, proving once again that Italian design is dominating.
Lot of time is still going to pass before we'll see this car roll off productions lines, but one thing is for sure, it is supposedly going to look almost identical to concept and it is probably going to be powered by Grand Turismo's V8 and definitely by turbo charged V6 engines which will develop from 410 HP to 520 HP, one more good news to this is that strongest versions are going to get all wheel drive.
When it comes to interior, it is definitely going to look different. On the other side concept version is powered by the standard Maserati V8 engine which is producing roughly 460 HP.
Main people of Maserati announced that we'll see this car on the roads in 2016, while its convertible version is going to hit the market year later.
This car undeniable draws some design lines from the Maserati's past models, but whatever the case is, this is not a retro car in any way.
Its price is still unknown, but it shouldn't be insanely high because main role of this car is not to bring necessarily insane amounts of money, but rather new Maserati followers which would turn into regular buyers.
Maserati is growing each year at incredible rate and their main goal is to reach a point where they'll be able to sell 50 thousand cars globally each year. To reach that king of numbers, they need new cars which will represent Maserati heritage with amazing design, engine, and of course, quality.
This car is going to go against some of the finest cars in automobile industry like Mercedes AMG GT, Porsche 911 and Jaguar XF, whether these three cars are going to receive some major changes by 2016, we'll see, but if they don't, Maserati Alfieri might beat all three of them easily.
Maserati always possessed that unexplainable x factor which many of the cars lack. If they keep it in the future models, they will certainly reach new heights.