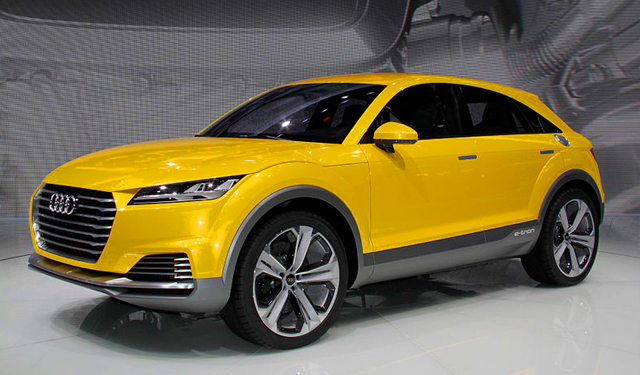 Audi was always synonym for innovation, but lately it has been hard to stand out in automotive world and everything comes down to implementation of new technologies which are improving overall picture, thus making significant difference over longer period of time.
However, Audi still manages to stand out with their self-driving car, matrix lights, and other technologies. Even though crossovers, or SUV models which are mainly focused on speed and handling do not offer much of the off-road capabilities, that is not really affecting their popularity.
Audi believes that this market will expand tremendously and judging by the models they offer, they are ready to conquer it as well as the Chinese market where lot of money can be made.
In the crossover world where demand is huge, competition is also fierce and Audi's TT badge is expanding with a new model with off-road capabilities and appearance.
Similarity among Audi models in undeniable, but TT off-road looks somewhat different.
It will be based on Audi's Q3 model and will offer latest from Audi's technology department, which will hopefully separate it from competition.
Keep in mind that this car, carrying TT badge, will mostly be focused on performance, meaning that it will be equipped with stiffer suspension and powerful engines.
Gasoline plug in hybrid which develops more than 400HP will probably find its place in TT Offroad. It will also be powered by other engines producing from 185 HP to 310 HP.
The platform that it's built on allows transfer of power to all wheels or to front wheels, but considering the fact that TT Offroad has to distance itself from Q3 and justify the higher price, it is probably going to be offered as all wheel drive only.
It is whole different car compared to the Q3 and it will have to find specific buyer which will find this car desirable enough to spend serious amount of money.
As we mentioned before lot of Audi's models look somewhat similar, and all they really need is to add some excitement to the design. That seems to be a problem with a lot of car companies lately, they develop one model which looks decent, and they make small changes before implementing same design to other models.