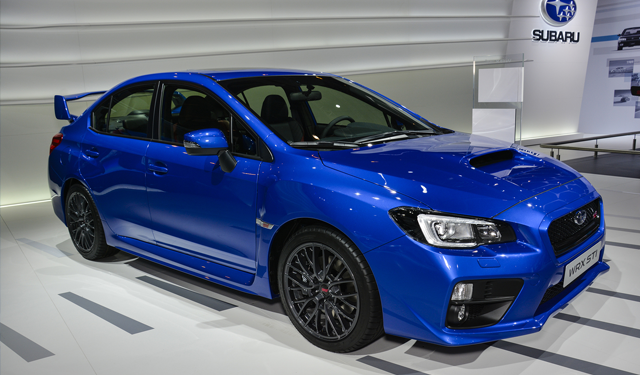 New Subaru STi is much closer to its roots than the previous generation. Actually, it follows everything first generation followed. Design is an important part of new STi and it separates it from its predecessors. It is much more similar to modern sport cars and you can actually feel the inspiration which came from other sport brands. However, we can't deny the overall design which screams Subaru.
New STi is also bigger. It is 5 mm taller and 15 mm longer which isn't really noticeable, but on the other side its wheelbase is 25 mm longer which should improve passenger comfort in the back. It is also 15 mm lower and its trunk capacity is increased by 40 liters.
Interior is new and it is all in Subaru spirit. Steering wheel is in D shape and it gives that racing feel. Gauges probably stand out the most. Between two main gauges for temperature and fuel, they fitted a display for SIDrive system and DCCD. As you can guess seats are also done in that Subaru fashion. One thing that probably stands out the most is the turbo gauge which shows the pressure and values.
This car will crawl under skin of any car enthusiast in minutes. It is a sturdy car and its suspension is stiff, as you can expect from any car that accents performance.
However, even though it has sporty suspension, it is actually very comfortable and driving is a pure pleasure.
If you are a Subaru guy, first thing you might notice is the sound, actually the lack of it on low RPM.
You have to step on the throttle hard to hear that boxer engine roar. 2.5 liter boxer engine develops 300 HP and 407 Nm of torque and it reacts to the slightest touch.
STi is really fast, it goes from 0 to 100km/h in 5.2 seconds while its top speed is 255 km/h. It is set up in a way so you can drive it quietly through the city, but when you want to have some fun all you need to do is step on the gas pedal.
The car is impressive in any way; it corners good, brakes magnificent and speeds up in an instant. Symmetrical AWD is one of the reasons for good performances. It can distribute the power from 41-59 to 50-50 %. Besides that you can choose from three modes- intelligent, sport, and sport sharp. The difference is in engine and throttle response.
DCCD is still key part of the AWD, and probably the most fun. You can actually set it up so car acts like the front wheel drive, or the more fun rear wheel drive. It might seem pricey to some, but you have to remember that this is one of the Holy Grail cars for people that can't afford Ferrari, Lamborghini or any other crazy expensive brands.