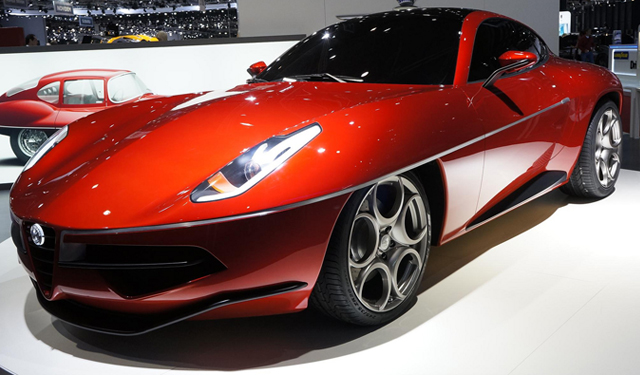 Many people from states might not even be familiar with this car brand since it's only been shortly in America, for those that don't know, Alfa Romeo is a brand with a rich racing heritage and some amazing cars behind them characterized by the amazing design, feisty engines and that x factor that none of us can actually explain.
The problem is that they are struggling in the last 10 years, but they are finally getting back on their feet and we can see that with Alfa Romeo 4C. Even the one of the harshest critics of car Jeremy Clarkson was amazed by Disco Volante as you can see in the video below.
Concept Disco Volante appeared in Geneva and it is based on Alfa Romeo 8C, using its chassis engine, transmission and suspension. Body is done in a traditional way by shaping the aluminum over wooden templates. Those panels are then placed on the pipe frame which is shaped as the final vision of the car. This traditional workmanship is a patent of a company named Touring Superleggera which means super light construction.
They didn't even dream about the attention they got with Disco Volante at the Geneva. This motivated them to into production with this unique car, but there were two obstacles.
They had to get the approval of Alfa's management or this car would stay a concept. However, Italians reached the agreement and they gave them the permission to make a car with their logo.
They solved one problem but they are going to have to battle another one as they go.
It's actually about the base Alfa Romeo Disco Volante will be built on. As we mentioned earlier Touring Superleggera chose the Alfa Romeo 8C as the base for their unique car. Problem here is that 8C has been built in a limited edition of only 500, so they can't really order one and go from there, they'll have to solve this problem however they can.
Most of their customers will probably be people who already own an Alfa Romeo 8C. Touring Superleggera promises that they will finish a Disco Volante six months after they get their hands on Alfa 8C. Chasis and powertrain will stay the same as they were in 8C, only suspension will be softer.
Power comes from 4.7 liter V8 which develops 450 HP. 8C also shares this engine with Maserati Gran Turismo and a previous generation of Quattroporte. It reaches the 100km/h in 4.2 seconds and its official maximum speed is 292, even though certain journalists drove it 306km/h.
When it comes to price, it is still unknown, but it is not going to be a cheap car for sure. When it's all said and done, it really is a beautiful and unique car, only problem might be that it's going to be hard to find a donor 8C, but on the other side, they are not planning to build a bunch of cars. This car is only going to be reserved for certain people who can afford it.