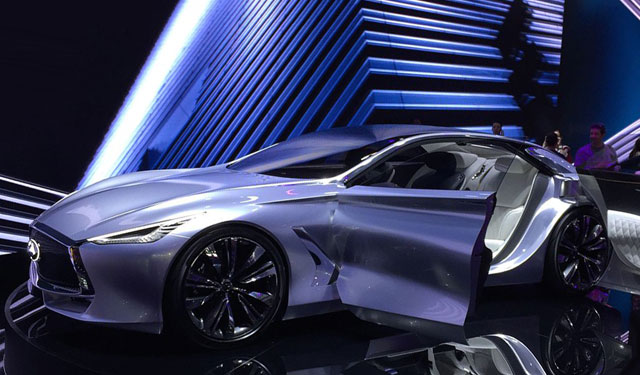 There were quite a few stars on the Paris Motor Show and one of them is certainly Japanese masterpiece the Infiniti Q80 inspiration. Infiniti is one of the best luxury cars on the American market and they really amazed with this concept. Futuristic appearance which is mainly characterizes by smooth curvy design gives an impression of elegance with a touch of aggressiveness. Main two things that stand out are the modern lights and the huge grill with a massive Infiniti logo.
Q80 might be the Infiniti's vision of the luxury sedan in the future which would compete with Mercedes S class, as well BMW 7series and other top of the line sedans.
They have actually been pretty successful when it comes to competing with some of the best car companies in the world, and the best example can be seen in United States.
They are selling their cars to the market of people who want enjoy the all the benefits of luxury but in something different than Cadillac, Mercedes or BMW.
The most impressive aspect of this car is that uninterrupted sleek shape which made this car stunning in the first place. Clever design also gave an impression of absence of rear doors, which are disguised by the smooth side and back lines. Back of the car is also all about elegance and sleek design with the same modern taillights and the exhaust pipes which blend in perfectly.
Amazing overall shape this car possesses is something most beautiful we've seen in a while and if Q80 goes into serial production it might dominate the segment. Don't get us wrong, Mercedes S Class and BMW 7 series and great cars but design this great paired with awesome engineering is not something you can ignore, of course, if you have money for think about buying some of these luxury cars.
Interior is designed in futuristic manner, but if we see it in production version, it will certainly be different. When it comes to the powertrain, it is powered by V6 engine which is paired with electric motor making this car a hybrid. When it is all said and done, judging by the attention Infiniti got with a Q80, success is guaranteed, of course if they play their cards right.