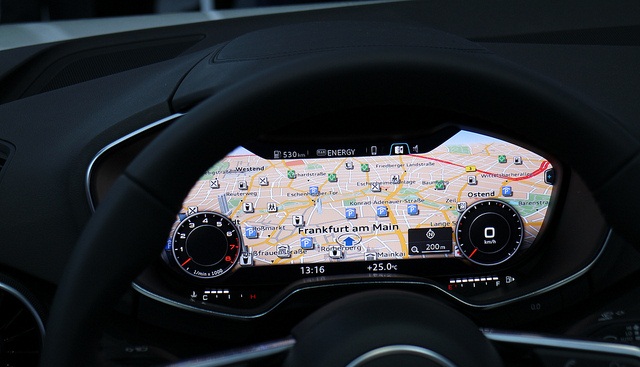 If this concept, suggested by Continental goes into production, we may feel more like flying a plane instead of driving a car. Dashboard of the future will have two 12.3 inch liquid crystal screens, which besides touchscreen availability, will also have motion detection sensors installed. But the main thing is that it is adaptive.
It is created to unify all of the complex systems found in one modern car which, we all have to agree, can be complicated and hard to use from time to time. Idea is to create simple and easy to use interface which will be able to cope with new updates and additions.
Very customizable and easily adjustable is what the company had in mind when they designed the product. The aim is to suit the needs of every customer out there. Changing the look is going to be just as easy as doing it with your phone. With this option of customizing, every single person can potentially have a unique looking interior in their car.
Of course, having said all of that you can assume that designing your car is going to be cheaper than ever.
Mask itself is just 17mm thick with no buttons on it, so the possibility for individualization is limitless.
Also, a driver will be able to put whatever buttons he wants on the screen, but this is not so impressive because it is something that we could do with our smart phones a while ago.
AutoLinQ
The innovation doesn't end there, because dashboard of the future with new AutoLinQ system allows to easily move the content from one screen to another whenever necessary. The idea gets pretty interesting when Continental conformed that with AutoLinQ content can also be transferred to a tablet or a smartphone.
With a simple swipe any info from your phone is available on the screen within the blink of an eye. It's very cool idea which is still in development, but we can already say that it has a bright future.
E-Horyzont
E-Horyzont tech is also going to be available. We are talking about an integrated service which collects the information from other vehicles equipped with this system and sends it directly to your screen. This definitely increases safety, but by the calculations from Continental it will also save you about four percent of fuel consumption.
Conclusion
All of this sounds pretty interesting sure, but are we blown away by continental dashboard of the future? Not really. As said above, some of the things like customizing buttons are already here. Car safety system sounds very nice, but Volvo might take the lead with new plan which sets the bar really high. AutoLinQ is looking very solid, but the ability to customize your car with less money is always good so if Continental nails this one, it could be a successful story.