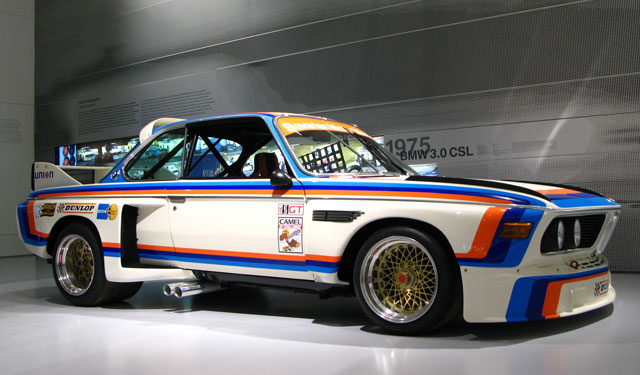 Spirit from the past in the body from the future, that sentence probably describes this car best. BMW 3.0 CSL Hommage is made to pay tribute to one of their most exciting racing models of all time the 3.0 CSL.
They presented this sport coupe concept recently and they got a lot of attention with it mainly because it is overall so futuristic, and that's exactly where're we going to start.
It is obvious that this car is inspired by the icon it is paying the tribute to, but design wise, did they went overboard? To be perfectly honest, they didn't, there are some overemphasized design elements like wheel arches which extend all the way to the hood, but this car still looks good
Some might find some design flaws when it comes to design, but this car is meant to go over the top. Everything when it comes to design as well as engineering is impressive, especially the rear end which clearly derived from the original car.
Since the original car was made based on the lightweight concept using only thin steel, aluminium and plastic, its future reincarnation followed the same steps.
In this case engineers turned to lightweight carbon fiber which gave designers even more freedom.
One aspect of this car that also stands out is the bright green color which reminds of E46 M series which burned the rubber all around the world at the beginning of 21 century.
Interior of BMW 3.0 CSL Hommage also follows racing style with sport seats and seat belts, as well as aluminium pedals. Futuristic elements are also present in digital gauges and very unusual steering wheel. Roll cage is also made from carbon fiber which is supposed to keep driver and passenger safe in the case of crash.
When it comes to powertrain BMW didn't reveal all of the details. However we do know that it is powered by the 3 liter 6 cylinder engine which is pushed by eBoost energy system whose specifications are still unknown.
Just to remind you BMW created two Hommage concepts before this one. One is M1 Hommage coupe which was presented in 2008 and which was truly a stunning car, and the other one was 328 Hommage roadster from 2011 whose weight was impressive 728 kilograms. All in all it is an impressive car, however, if they toned down some of the details it would've been even better.