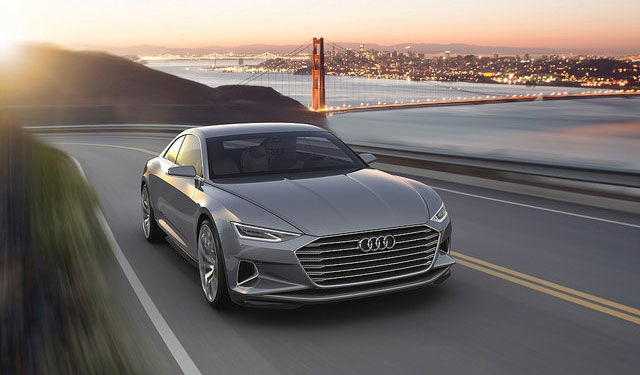 We have seen many impressive cars on the LA Motor Show and Audi's studie prologue concept is definitely one of them. However, in this article we won't focus on the concept itself but rather on what it represents and that's a new era of design for Audi.
There is no doubt that German cars are massively popular around the world and the main reasons for that is superior engineering and reliability.
On the other hand they lack something when it comes to design, as well as the character some of the other brands possess like Maserati.
Competition is tough among German car manufacturers and the battle is getting more serious by day.
BMW might be on top when it comes to exterior design, Mercedes is definitely innovative and they might be on top when it comes to engineering, while Audi combines most of those qualities with interior design that's unsurpassed. There is no doubt that all three of these brands build quality cars, but more and more people are choosing Audi over its German brothers.
One big drawback of Audi models is their design and it has been their problem for years and most of their cars ended up looking dull and boring. Main people of this company finally decided to do something about it and they produced this concept to show how their future models will look like.
As we can see from the photo and from the video below, this new design is stunning to say at least. It pretty much looks better than any other German car we've seen lately. The sharp front end followed by the smooth overall shape in this interpretation is something that Audi has been lacking for years.
If they follow up on their plan they might become a huge headache for BMW and Mercedes, mainly because they'll produce cars that basically have everything – awesome exterior design, great engineering and beautiful interior they are known for.
Hopefully they won't use the same tactics they used before, meaning that they hopefully won't make all of their models look pretty much the same. Some of the German Brands should learn from their mistakes, as well as Audi and they should make their models diverse from one another. Design should be something each car company uses to express their own taste, style and their own vision of perfection. If they don't follow this we'll end up with a world of same dull cars.