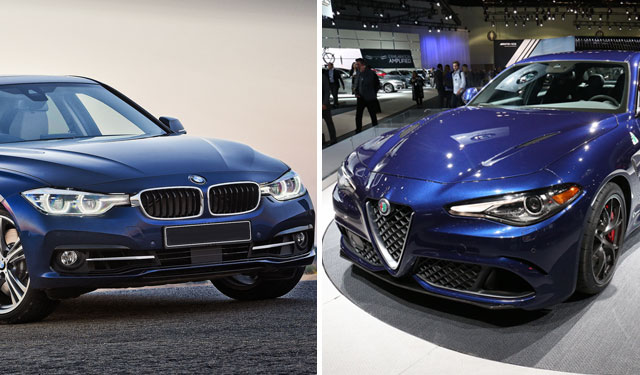 These two companies have been competitors throughout the years and even though Alfa didn't have serious model to compete with in the recent times, competition flame didn't die off. Luckily for us Giulia came out after long anticipation, but is it good enough to compete with one of the most popular brands in the world, we're going to find out.
Two cars that we're going to focus on are BMW 320D and Alfa Romeo Giulia 2.2 JTDm. As you probably already know from the marks, these are diesel version which are quite popular especially in Europe.
Let's talk about BMW first. 3 series is a solid car, it has certain quality standards which made it popular, however, this car still has some drawbacks, especially when we compare it to this Italian beauty.
When we take a look at exterior design it is clear that 3 series falls behind Giulia which breathes out that Italian passion as well as that well known sense for design.
Germans are sticking to the old recipe, which isn't bad, but it isn't something you'll turn after when you see it on the road. Giulia exterior is masterfully crafter, it is beautiful, sleek and simply exciting.
When it comes to interior, BMW once more gives out that clinical feel, which simply lacks some of the style its Italian competitor has. However, it is quality made, just what we got used to from this Bavarian company. On the other side Alfa's excitement from the outside is reflected inside as well, there are some minor alignment issues but nothing noticeable.
Engine wise 2.2 liter engine's output from Italians ranges from 135HP all the way up to 210HP. Our version produces 180HP which was enough to outrun its German competitor. This engine is impressive and it is the first diesel engine they ever made that was entirely made from aluminum. Clever turbo almost completely eliminates turbo lag and even though this engine is weaker on the paper it reaches 100 km/h faster than BMW, in 6.8 seconds.
2 liter diesel engine in BMW is smaller but it produces 190HP. Both cars are equipped with 8 speed automatic transmissions. Only advantage 3 series has over Giulia is size. It is bit more spacious inside especially for rear passengers. All in all Alfa made a stunning car, which, as you can see, managed to outdo this Bavarian in this Alfa vs BMW game.
It is exciting, beautiful, appealing and exotic in the sea of cars which somehow lack idea. It is nice refreshment which certainly met our expectations. Alfa won this duel, but will they manage to beat M3 with Giulia QV, we'll see in one of our future tests.