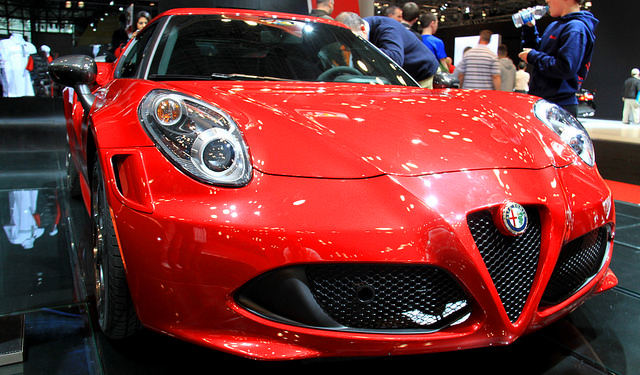 The latest car that came from Alfa Romeo production lines got a lot of attention. Some of it was good, some of it bad, but overall conclusion is that Alfa Romeo made awesome little car which is all about driving pleasure.
4C could compete with many cars like Lotus Elise and Porsche Cayman, however, it really is in league of its own. Here are 7 reasons why Alfa Romeo 4C is one of the best driver's cars ever.
1. It is simple
Main goal of engineers was to make a lightweight car, which also means that they couldn't implement all of the technologies available to them.
If you are a car enthusiast then you know that bunch of technology can improve vehicle stability and control, but on the other side it kind of ruins the driving pleasure significantly.
Even though 4C has DNA system (different driving modes), and other basic systems, they still excluded bunch of other systems which would interfere with driver- car connection.
They even implemented the unassisted steering mainly to save weight, but it also kept the things simple and old school, giving the driver feel for the road. This is a perfect example of how complexity doesn't necessarily make a car better.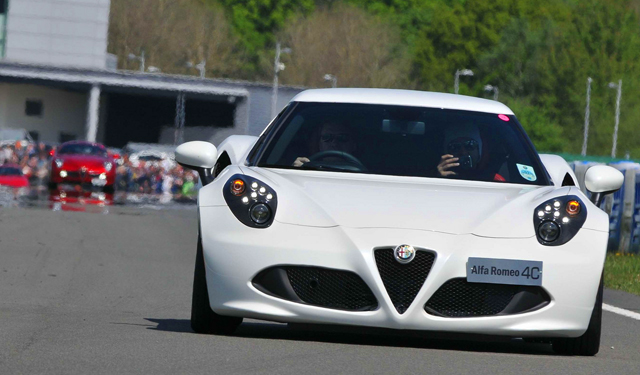 2. Awesome performance
As we already mentioned this car is all about weight reduction and of course that had huge impact on car performance. Even though it has a tiny 1.75 liter turbo charged engine, combination of feisty engine and lightweight body gives this car amazing characteristics which could be compared to cars which cost much more.
Although 1.75 liter engine might not sound serious enough to some people, the 240 HP it develops are more than enough to give this car impressive performance.
It goes from 0 to 60 mph in 4.5 seconds and its top speed is 161 mph. Alfa 4C proved itself on many occasions. One of the was the lap on one of the hardest and most demanding tracks in the world the Nurburgring where 4C managed to circle the notorious track in 8 minutes and 4 seconds breaking the current record in the class of cars under 250 HP.
In one other occasion 4C managed to beat some of the big names in car industry on Goodwood. To be more exact it had better times than cars with much more power like Corvette Stingray and Aston Martin.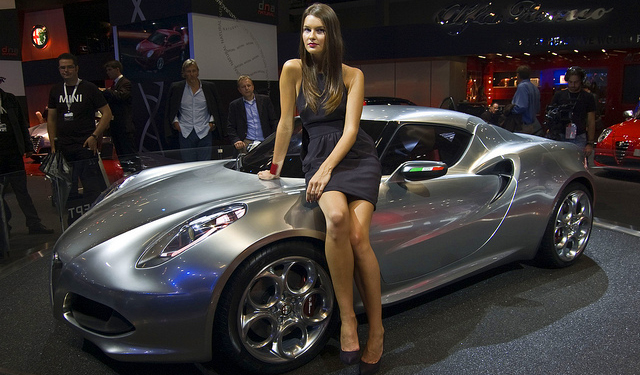 3. It is visually appealing
This car got a lot of attention as soon as it came out as concept few years ago. You can't deny it, this car is really beautiful. It is one of the big aspects of Alfa Romeo.
Their cars might have an occasional flaw here and there, but they are all beautiful in their own way and much more appealing than cars of other brands in the same class. However, there is one thing Alfa messed up with a serial model- they didn't keep the headlights from the concept, they gave it spider headlights which kind of ruined the impression a little bit.
But strangely, even that mistake couldn't ruin the overall visual impression of this car. All of this hard work regarding design was crowned when Alfa 4C was awarder as most beautiful car of 2013 beating some of the big names like BMW and Mercedes. This proved once more that well known fact that Italian design is superior. Even the cars they often compare it to- Cayman and Elise, look much less appealing.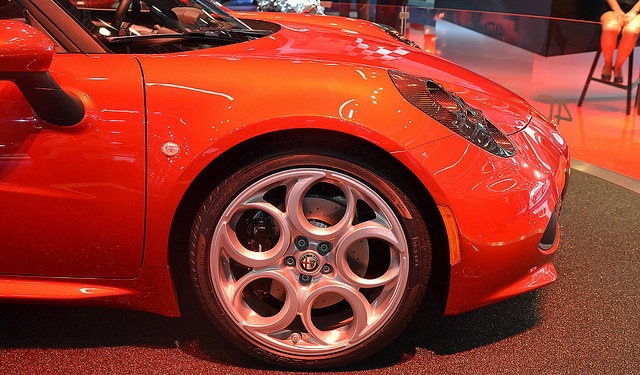 4. 4C went back to its roots
If you are Alfa Romeo enthusiast you might be more familiar with the problems that Alfa got into since Fiat took over. Alfa was always high performance brand which was available to average people. In other words, if you couldn't afford some of the much more expensive brands like Ferrari or Lamborghini, you could buy an Alfa and have just as much fun, if not more.
That changed since Fiat took over, and Alfa was producing front wheel drive cars which weren't as fun as its predecessors. It gets worse. Under Fiat management Alfa started losing its quality they were known for. Luckily, they realized that they made some mistakes in their past and they finally went back to their roots. This is the first car that is actually all about Alfa Romeo heritage.
It is a rear wheel drive performance car which shows us the essence of driving pleasure. It is also tangible proof that Alfa is getting back on their feet and the good news in this story is that we are going to see more and more models based on this philosophy.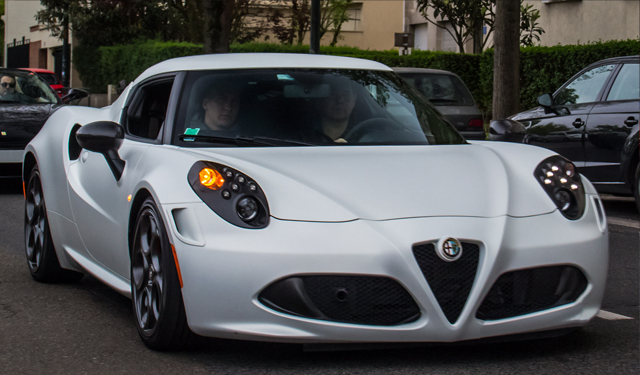 5. It is Affordable
Now this is mainly good news for us that don't have millions on bank accounts. This car is affordable and you'll get performance of the cars which cost double or triple as the 4C. Its price is around 63 thousand dollars and that is not cheap, but you have to think about what you'll get for that money.
4C is not really a supercar but you'll get performance that is close to the supercars that cost much more. It uses the similar philosophy as McLaren P1 which costs 20 times that. It's built mainly out of carbon fiber and on top of its list is power to weight ratio.
All the latest tricks in the car industry are used in its development and even though it can't compare to the mentioned P1, you'll get the smaller version of the supercar which is joy to drive in every way for the fraction of the money. So if you have some money saved up, you can buy Cayman or you can stand out and buy much prettier and stylish 4C. It might not have all the luxury of the Porsche Cayman but it certainly offers more driving pleasure.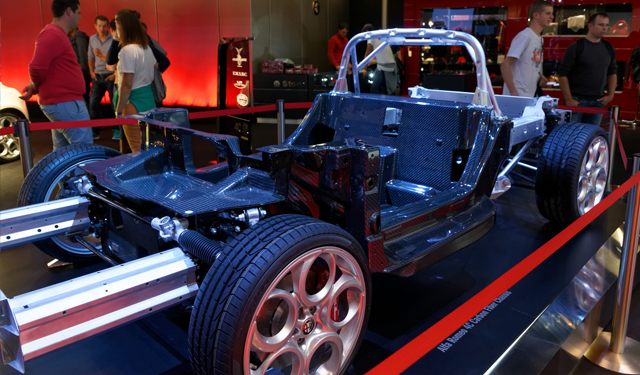 6. It is made from quality materials
As we mentioned before, Alfa had some quality issues in the last two decades. That's why on top of their list is the quality. Every part of this car is made from quality materials and every component of this car is thoroughly tested. It is basically Alfa's comeback model with which they are trying to gain back the reputation they once had.
This means that this car had to stand its ground in every aspect besides luxury which is not really present due to the low weight. Did they reach their goal?
Well, yes. Maybe not on the top level they intended to but they certainly made beautiful quality car which is all about driving pleasure. Now, if you know Alfa then you know that there are couple of flaws here and there like absence of boot which is somewhat unpractical.
However, this car is all about driving and overall impression is really good. It might not be the perfect everyday car, but it will get your heart racing every time you step on the gas pedal.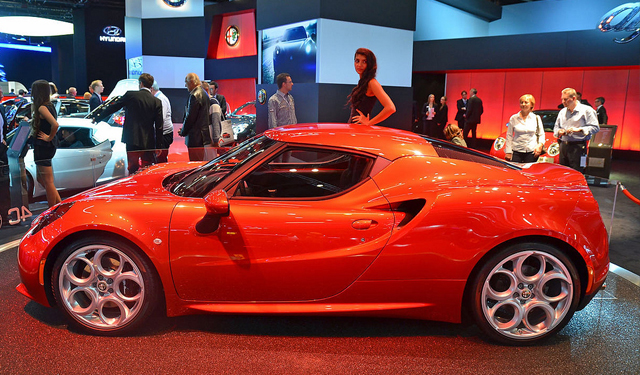 7. Low running cost
Most important things when it comes to driver's cars are affordability and low running costs. We already discussed the affordability but what about the running costs? Its simplicity comes into play one more time meaning that there are no extraordinary technological achievements implemented into it.
Good side to this is that there isn't anything expensive which can break down. It has an engine from Giulietta, systems which are already proven, and it is made from materials which won't disintegrate with time. It has amazing driving characteristics and it is fast, but what about the fuel consumption? Since it only weighs 1973 lb which are pushed by 1.75 liter engine, fuel consumption is more than impressive.
It will get 34 miles per gallon which is unreachable for any other car with similar performance. All of this means that 4C owners won't have high running costs which is one more advantage of this feisty little car. When you take a look at the whole picture moneywise, 4C is not out of reach for many. The only problem might be the limited production which makes it hard to get your hands on one.