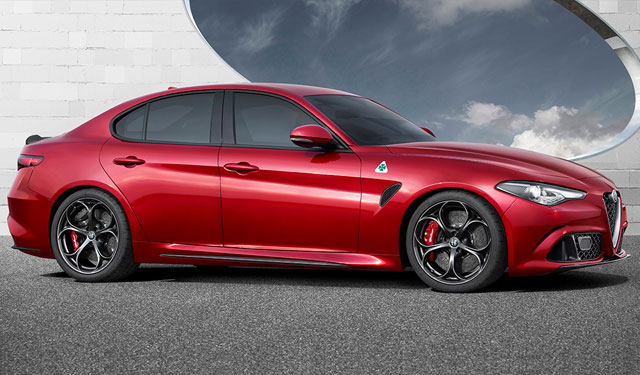 Not a lot of cars have been so anticipated as 2016 Alfa Romeo Giulia, and to be perfectly honest, they didn't disappoint. Italian curves with sporty accents made a real stunner out of this car while Ferrari derived engine which develops over 500 HP gives all the power necessary to the most powerful version.
Besides all the good stuff, as we could've noticed even with 4C Alfa is getting some harsh critics. In this case it's all about the exterior design which wasn't really Alfa perfect and unique enough.
On the other hand lot of people don't actually realize that this is Alfa's comeback car, even though 4C came out awhile back. This is actually a car they intended for wide masses which is supposed to boost sales and bring back that Alfa Romeo heritage back.
That's why they couldn't actually go crazy with the design. They had to make something which would be unique, but which would also appeal to the market which is mainly dominated by some of the best German brands.
That's the main reason why the 2016 Alfa Romeo Giulia has the more tamed design which most of us wouldn't really expect.
However, in our own opinion, we have to admit that this car really impressed us. Even the design which isn't good enough for some breathes out that Italian style and aggressiveness found in some of the other Alfa Romeo models, and most of us would pick this car over boringly designed Audi or BMW, whose line of models basically possess the same design.
As we already mentioned the strongest version of this car will be pushed by V6 engine with two turbos that has been developed by Ferrari and which generates over 500 horse power. Just to remind you, Alfa promised that they will come up with BMW M3 competitor, and judging by this, they have pretty much succeeded.
There is still a lot we don't know about 2016 Alfa Romeo Giulia, like price, base model engines, etc. We just can't wait to get behind the wheel of one, possibly the QV version that was used for main presentation.
Main people of the company also did one more thing which is supposed to symbolize the new beginning, and that's the newly designed logo, which carries the same elements, but in the more refined manner. This new car that came from Alfa, at least judging by the info available at the moment, is really something that brought back all the qualities this Italian brand is known for.
We just hope that they'll follow the same philosophy with the new models that are supposed to come out in next few years.