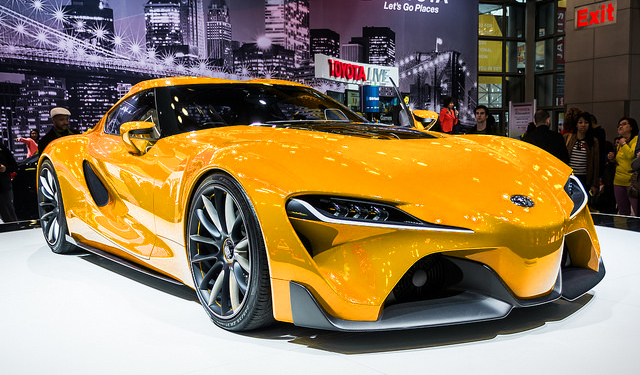 Quite a few legendary cars came from Japan and Supra was probably the most impressionable.
Even though Toyota is among the biggest car companies nowadays, the only sport car they produce is GT86, which is nothing compared to the old days when they offered cars like 2000GT, MR2 and of course Supra.
In 2011 Toyota and BMW signed the agreement for cooperative research in the area of ion lithium batteries, which also enabled Toyota to use German 1.6 and 2.0 diesel engines.
In 2012 that cooperation expanded to electric powertrain development, as well as for development of one sport car.
The signed agreement states that German side will be in charge of design, since the new Supra is going to be based on BMW's Z4 model, or in other words design will be changed only as much as Z4 platform allows, but it should still closely resemble FT1. However, that's not the only thing these two cars will share and the final product will probably be the sport car which closely resembles BMW i8, but which is available to wider masses.
One thing is for sure, hybrid powertrain will be developed by Toyota, and that is the main thing which will separate these two cars since Z4 will not have the hybrid powertrain.
This new Japanese racer will develop somewhere around 350 HP combined and it will have generators on both axles which will collect energy from braking. New Supra will have three electric motors, one will be placed in the back while other two will be positioned in the front.
One more interesting thing in this German Japanese cooperation is that Toyota is going to design these electric motors while the German side is going to produce them. Final weight goal for both cars is anything less than 3100 lb. Both cars will also share the same motor which will probably be 2 liter 4 cylinder.
This cooperation certainly sounds interesting, but we'll see is the final product will meet our expectations. Back in the day Supras were pure blooded Japanese racers and they all possessed that x factor we all want. If the new Supra lacks that, we might as well prepare for disappointment. New Supra is probably going to come out in 2017.