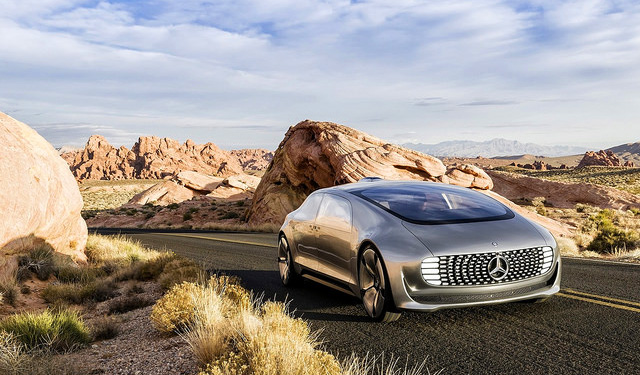 We talked about autonomous cars a lot lately, and whether you like it or not, their time is coming, although it's still uncertain when will they really take over. News which got a lot of attention recently was presentation of Mercedes's luxury car of the future which, as you might have guessed, is also autonomous.
Mercedes is one of those companies whose reputation was always on the top level, and they gave the world their share of innovations which made cars better today. Considering their capabilities Mercedes F 015 is really out of this world, whether it's engineering, or technology itself, but there is still one thing which we don't really like, and that's design.
First thing that comes up to mind when we take a look at this car is all them movies about future and future cars which do not resemble cars of today in any way.
Even though it is supposed to look futuristic, they didn't have to make it look dull and overly simple.
Front end which doesn't really look like anything we've seen until today doesn't tell much. Huge grill with futuristic headlights give us impression that they didn't have a lot of ideas. Design lines are almost nonexistent making the whole car somewhat boring.
Interior is different story, even though it is insanely futuristic, it still looks appealing and it is certainly nice place to be in. Front seats can turn around and face back ones, and the absence of B pillar made entering and exiting the car very easy.
Function on command panel, which stretches over the whole width of the car are operated by hand movements. Touch screens which are implemented in all doors allow passengers to watch different multimedia content. This car offers latest in technology, no doubt about it, and just like they did with some of their other models like S class, they are showing us how our future will look like with this car.
Mercedes also showed us what could we gain and lose with cars like this, and hopefully great design is not one of the things we're going to lose. Their autonomous system works flawlessly and it's definitely one of the best.
They got impressive car for the future prepared, as you can see in the video below, and even though they are not the only ones, numerous laws that restrict use of such cars will still keep them off the roads for quite a while. Whether that's a good thing, you be the judge.