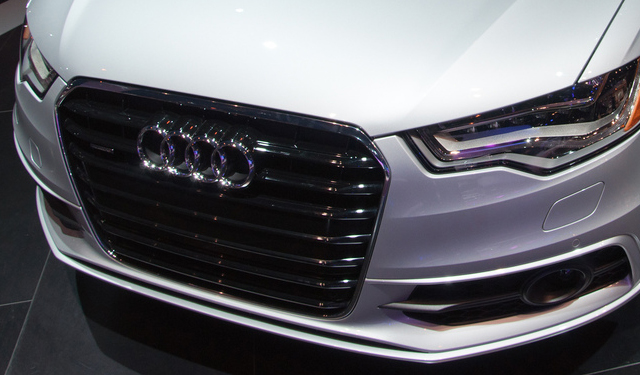 There is no other system which is discussed more than lane assist system. We tried five of them and here are the results.
Audi A6 Active Lane Assist
Their system activates when you go over 65 km/h. It recognized lane migrations with a help of camera in front of interior rear view mirror. Software then recognizes the color and thus the movement. If you try to change the lane without the turn signal, car will return to the right lane by itself with a soft vibration on a steering wheel to signal the driver. Some of its positive sides are that there is no confusion when it comes to lane changing, driver doesn't need to interfere right away, and you can turn the steering wheel vibration off. It is one of the best systems on our test. Bad side to it is that it might be too active.
Ford Focus Lane Keeping Aid
Focus also has a camera mounted on the interior rear view mirror and it also activates when you go over 65 km/h. When you get close to the lane car starts returning to the middle. If you go over, vibration starts. Good side to this system is that you can adjust its intensity and save some of your nerves. However, it is somewhat complicated. Just to adjust the intensity, you need to click 19 times. It can interfere strongly which can result in swerving from lane to lane.
Lexus LS Lane Keeping Assist
Just like the first two, Lexus also has a camera under rear view mirror which activates over 50 km/h.
At first, system warns you with sound signals, while between 70 and 170 km/h steering wheel joins the action.
System is not adjustable but after LS redesign, other factors are included like side wind and inclinations.
Its simplicity is one of its positive sides, there is on and off button and a clear sign when system is active. On the other side sound warning can be irritating and system can be unreliable.
Mercedes Lenkassistent/Distronic Plus
In combination with Distronic Plus, S class offers most options. Before you reach 60 km/h system automatically decides if it's going to follow the lanes over camera or is it going to follow the car in front with a help of radar (up to 200km/h). Without Distronic it keeps you in the lane by braking instead of steering wheel correction. System is active in the wide range of speeds, steering wheel intervention is smooth, and it can go long way without driver interfering. One of its bad sides is that it can be inaccurate without radar.
Volvo V40 Lane Keeping Aid
Volvo system is also based on camera and software which operate on speeds between 60 and 200 km/h. There are three modes- full functionality, steering wheel correction or just vibrations, and there is only one button for turning it on. Smooth steering wheel correction which is followed by vibration and good recognition of lanes really left a good impression. Bad side to this system is that it's not really calibrated that good and there can be some swerving.
Among these five system Audi and Mercedes proved themselves as most reliable.