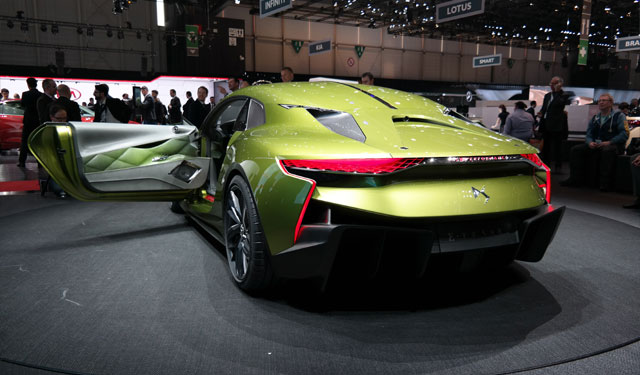 The newly established automaker DS has finally presented their amazing concept, grabbing the attention of visitors in Geneva. With zero emissions and beautiful design it looks like we'll finally get a truly electrifying experience.
The brand is basically a luxury branch of the French Citroen, and even though the company started just a year ago they want a place among high-performance GTs. Incorporating style into a high-tech experience may be the way to the top for these types of cars.
Design
The front of coupe is looking very shiny supposedly inspired by jewelry, alongside nicely done mask and LED lights. Absence of rear window is interesting choice and it will probably increase the price since more tech is going to be required to compensate for lack of a view.
LED is also integrated into a roof as the company pays respect to 1955 DS. It's a very edgy design with some nicely placed vents and strakes but overall the new DS E Tense looks similar to Audi R8.
Interior is pretty minimalistic with some interesting details like a futuristic dashboard made of cold steel.
Audio system is made by Focal and offers you 9 utopia high fidelity loudspeakers to spice up the experience even more.
Of course all-controlling central panel is there and little details like the watch which you can take out and wear is showing that uniqueness is very important.
Engine
DS will put a 100% electric 402 HP engine which produces 516 nm of torque. The French company has stated that the efficiency and power must be accomplished at any cost but they will also try to be as silent as possible.
Lithium ion battery pack is going to enable us 300 to 360 km of range to play with. We should add that they placed it under the chassis which will give some extra stability since that keeps the center of gravity very low. New DS E Tense is going to be powered by the rear wheels and it will go from 0 to 62 mph in 4.5 seconds while maximum speed is reached at 155mph.
Another French company Michelin will supply specially made tires which are able to cope with high torque produced by electric engine. We should mention the tires take some of the credit for the comfortable ride, while the safety will not suffer even at high speeds. Also regarding safety, the LED lights will receive extra functionality as the new features are introduced.
Most notable are a highway function and weather function which really make it easier to drive in rain, fog or snow. Electronic systems were developed in partnership with Coyote, so we received a high definition digital instrumentation offering us 12 inch handset combined with 10 inch touchscreen which are very simple to work with.
New DS E Tense concept is very interesting for sure but will it make the serial production only the time will tell. However, if we consider success of some of the other cars it competes with, they could make it to the top.