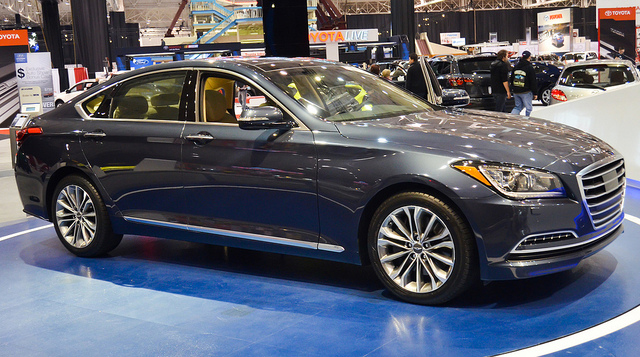 We all remember those times when Hyundai and Kia were synonyms for poor quality and unreliability, but things have changed drastically in the last decade. They are actually one of the few companies which managed to change their image by hard work and completely different vehicles which proved themselves as really reliable and well made.
However, Hyundai will not stop until they secure their place in the luxury segment where they will compete against big companies like Mercedes and BMW. One of their candidates for luxury segment is the new Genesis which looks amazing and offers everything you might expect from luxury car like leather, all of the latest technologies, space, comfort, AWD… Of course this little experiment is going to take place in Europe.
With that being said, Genesis is far from perfect. It gives us the impression of American intended car which offers luxury and comfort but lacks performance and agility.
Reason for this is its weight which is 2.2 tons. It is far from bad car but it does need some refinement.
For example, steering can be heavy and imprecise and its 3.8 liter engine, although great at low RPM, gets really loud at high RPM.
Mentioned V6 engine develops 315 HP pushing this car from 0 to 100 km/h in 6.8 seconds, with maximum speed of 240 km/h.
Its 8 speed automatic transmission is decent but it could use some refinement also. Fuel economy is not bad averaging between 12 and 15 liter on every 100 kilometers. There are many assist systems included, however, they do not justify the price of 65 000 Euros.
There is also one more issue many don't want to talk about and that is the fact that it is still a Hyundai. It just somehow doesn't belong there. Companies like BMW and Mercedes have been building luxury cars for many years, and it really shows when you sit in one of their cars.
On the other side, just like we all witnessed, Hyundai already accomplished a lot, and with some persistence and dedication they might be able to compete with some of the big companies, however, Genesis is not the right solution.
It is designed well, it offers luxury, but it still lacks that finishing touch. Let's not forget that many of the potential costumers would rather choose other car brands which already proved themselves in this area.