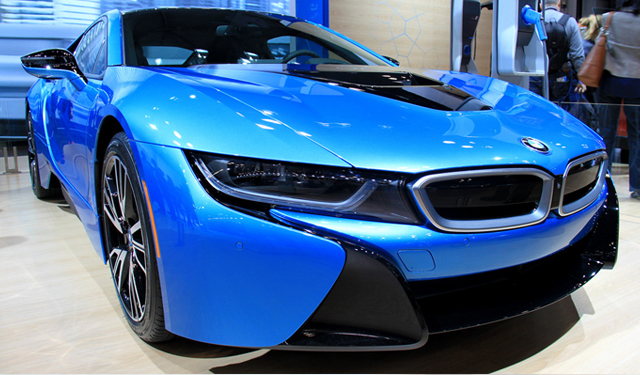 Futuristic sport car is finally in front of us, and just as we assumed, it is going to be reserved for the ones with deeper pockets because only model in portfolio of this Bavarian manufacturer that's more expensive is BMW760Li. BMW i8 is the first plug-in hybrid that comes from Munich and of course it has been advertised everywhere as a revolutionary car.
There is no denying that it advanced, but is it really revolutionary? You be the judge. When it comes to mechanics, there isn't really anything new, but of course, we can't question BMW top quality. However, word "revolutionary" can be used to describe its design and aerodynamics.
Its cabin is made from CFRP which is plastic reinforced by carbon fiber, while its chassis is made from aluminum. This contributed to its weight of only 1490kg. Besides that, its drag coefficient is amazing 0.26, and its center of gravity is very low. We can't really say much about its weight distribution because that's BMW specialty.
Since the first concept was introduced, its exterior design got a lot of attention and it is based on modern interpretation of already established values embodied in classic proportions characterized by sport cars. Doors open up, LED lighting is standard, and as the additional option there are innovative laser lights for countries where they are not prohibited by law.
The whole hybrid powertrain is developed by BMW Group. It starts off with a 1.5 l 3 cylinder gasoline Twin Power Turbo engine which develops 231 HP and 320 Nm of torque.
Power is sent through the six speed automatic transmission traditionally to the back wheels.
Its electric motor develops 131 HP and it uses two speed automatic transimission to transfer power to the front wheels.
Lithium ion batteries are water cooled and they have a capacity of 5kWh.
Complete system delivers 362 HP with maximum 570 Nm of torque. Performance is excellent when we consider its fuel consumption. BMW i8 goes from 0 to 100km/h in 4.4 seconds and its maximum speed is limited to 250 km/h with fuel consumption of 2.5 l of gasoline on 100 kilometers.
Driver can choose different driving modes. Car can run on only electric power for 35 km with maximum speed of 120 km/h. Comfort mode offers optimal balance between economy and dynamic and it is ideal for everyday driving. You can go over 500 km in this mode. Sport mode offers high performance with accent on maximum performance of electric motor. Eco Pro mode can be used when car is powered just by electric motor as well as in hybrid mode.
BMW implemented everything they have in the i8. The car is equipped with latest sophisticated systems and it is safe to say that they don't have any competition at the time.
BMW opened a new segment with i8 of "fancy" sport cars with accent on electrics. Their new model is not a super car, nor is it a classic sport car. This model is above all intended for people with deeper pockets who probably never even heard a slogan "The Ultimate Driving Machine".